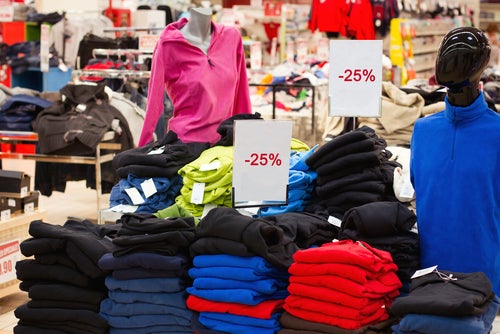 According to the ONS January retail sales report, on a year-on-year seasonally adjusted basis :
Sales by Value (amount spent) increased 3.7% YoY (this growth is primarily due to rising prices)
Sales by Volume (quantity bought) fell 5.3% YoY
Responding to the latest ONS Retail Sales Index figures, Helen Dickinson, Chief Executive of the British Retail Consortium, said: "Widespread January sales helped sales growth remain positive as the industry entered the New Year. Despite this, the rise in consumer spending could not keep up with the double-digit inflation rates, with another fall in retail volumes. Larger purchases were hit harder as consumers tightened their purse strings or traded down to value brands. Meanwhile, clothing and footwear saw stronger growth last month."
"With consumer confidence falling slightly, and high costs throughout the supply chain preventing prices from falling, it is a bumpy road for households. However, retailers are taking steps to cut costs and limit price rises where they can, to help their hard-pressed customers."
Analyst reaction to January sales update
Pippa Stephens. Analyst, apparel, GlobalData: "The figures are compared with a period impacted by omicron last year [and] may not be indicative of how the rest of the year will pan out. It does show a continued appetite to spend though, even after Christmas trading was very strong due to COVID-19 restrictions in the prior year."
Silvia Rindone, EY UK&I Retail Lead: "Although retail sales volumes marginally increased by 0.5% month-on-month in January, largely due to promotional activity, when looking at the bigger picture, sales volumes fell by 5.7% in the three months to January when compared with the same period last year.
"While not unexpected during what is, traditionally, a quiet trading period, the backdrop of rising inflation and falling consumer confidence means today's figures are likely to be a sign of things to come.
"Christmas trading updates from retailers over the last few weeks have been varied and reflect a highly pressurised market in which companies are competing for the same share of squeezed wallets amid rising costs and overheads. These headwinds are having a real impact on bottom lines.
"With consumers likely to continue tightening household budgets in 2023, it will be critical for companies to keep adapting and reflecting customer priorities, which for most consumers in the short-term will be a compelling price proposition. Retailers and brands also need to think about stakeholder confidence, as well as consumer confidence. The support of shareholders, lenders, landlords, pension trustees and credit insurers is critical in difficult times, when confidence is lost far quicker than it is gained."
Oliver Vernon-Harcourt, head of retail at Deloitte: "The retail industry is entering a transitionary period as inflation eases and consumer confidence shows early signs of improvement.
"However, times continue to be tough for the retail sector. Leaders' focus will remain on sales growth while managing higher costs and changing demand. To do this, retailers will need to ensure they offer the right balance of quality and value for consumers to spend their hard-earned money.
"For those that continue to invest in both their people and customer engagement, better times are ahead."