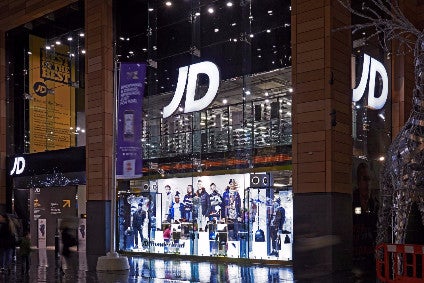 Shares in JD Sports Fashion were up by more than 7% this morning (14 January) as the UK retailer hailed an "excellent" performance during the peak Christmas trading period.
In a trading update ahead of the release of its full-year results in April, the sports retailer reported total sales growth for the 48-weeks to 5 January of 15% across its global sports fashion fascias (excluding the recent acquisitions of Finish Line in the United States and Sport Zone in Iberia).
For the same period, the total like-for-like sales growth in these fascias is now more than 5%, including a "consistently positive" like-for-like performance over Black Friday and Christmas.
JD Sports said gross profit margins have been maintained at prior-year levels as the group continues with its policy to avoid short-term reactive discounting.
Meanwhile, the retailer's expansion continues, with the first two stores opened in Thailand and first five in the United States – which includes the conversion of three Finish Line stores. In June last year the group completed its US$558m acquisition of US athleticwear chain The Finish Line , and now plans to convert up to 15 further Finish Line stores to the JD fascia in the first half of 2019.
JD Sports said it is confident its full-year group profit before tax will be at the upper end of published market expectations, which currently range from GBP325m (US$417.4m) to GBP352m.
"I am pleased with the continued progress of the group both in terms of our performance in existing markets and the recent positive developments in the United States," said Peter Cowgill, executive chairman. "We are confident that domestically and internationally, in stores and online, our unique and often exclusive sports fashion premium brand offer provides a solid foundation for future development."