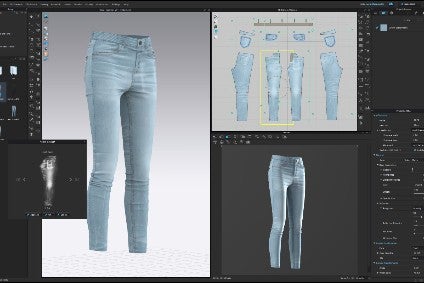 Technology firm CLO Virtual Fashion has partnered with Jeanologia, Substance by ADOBE, and ColourDigital for the release of its latest 3D design software for apparel designers and brands.
CLO 6.0 allows brands and designers to achieve a more flawless workflow by optimising the entire 3D design process from start to finish and enabling them to sustainably create digital designs that are an exact one-to-one representation of the physical end product.
Since CLO's inception in 2009, the company has been dedicated to cultivating a more creative and sustainable landscape for apparel industries. With the software's accelerated simulation engine and unique features, it offers users of CLO, Substance by Adobe, Jeanologia, and ColorDigital robust capabilities that will further their entire design process, the company says.
"By providing practical and seamless workflows with Substance by Adobe, Jeanologia and ColorDigital, CLO users can now extend their design continuity to its fullest with their applications," says Simon Kim, CEO of CLO Virtual Fashion.
Substance by Adobe: This integration allows users to import Substance SBSAR files directly into the CLO software, expressing textures and materials more realistically through physical-based rendering technology. These material properties can be customised and edited by the designer, furthe improving true-to-life virtual simulation in 3D apparel design.
Jeanologia: With this new integration, brands and designers are able to apply a .jean file created in eDesigner directly onto CLO's garments to visualise and render denim finishes, and then send it straight to a laser machine to begin production using eMark, Jeanologia's software that is installed in the laser machine.
ColorDigital: Developed by ColorDigital and supported by the German Fashion Institute, the DMIx Cloud is a cloud-based solution created to achieve hyperrealistic digitised materials. Through this new integration, designers and brands using CLO are able to drag and drop textures and colours from the DMIx Cloud and apply these directly to their garments in the CLO software with all visual factors of the fabric taken into account.
Josep Maria Carbonell, software developer director at Jeanologia adds: "Today more than ever we need to implement digitisation in our industry. Design, digital collection and 3D virtual reality are going to be key to recovery. With the integration of eDesigner and CLO, we are able to make the dreams of designers a reality by connecting designers with wash developers and brands with manufacturers. It will be a complete transformation in the jeans industry."