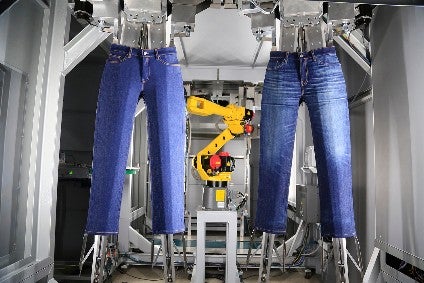 Denim finishing technology specialist Jeanologia has launched a new technology it claims can scale sustainable production by enabling two people with two robots and eight lasers to produce 10,000 pairs of jeans a day.
"Only with automation is it possible to have clean and scalable manufacturing," explains the company, which says it has taken inspiration from other industries including telecoms and the automotive sectors where people and robots are already working together.
The new Hardman technology comprises lasers and a robot cabinet. A human and a robot work together and can produce 10,000 vintage jeans in 24 hours without discharge, according to the firm.
"The way in which we produce a product becomes part of its DNA, which is why, if it is not produced in a sustainable way, it is impossible for the jean industry to be clean," asserts Jeanologia CEO Enrique Silla.
Handman is also said to have the potential to change the relationship between brands, retailers and producers by allowing them to be more strategic and interconnected. Brands communicate directly with Handman and their production centres, while designers send instructions directly to the production centres.
"For the first time, consumers and production centres will be connected, brands will become creative platforms that allow connection between consumer and producer," Silla adds.
Handman is currently is in use in three plants around the world, producing 5m jeans a year.
Jeanologia recently calculated that it helped manufacturers save around 15.5m cubic metres of water last year.