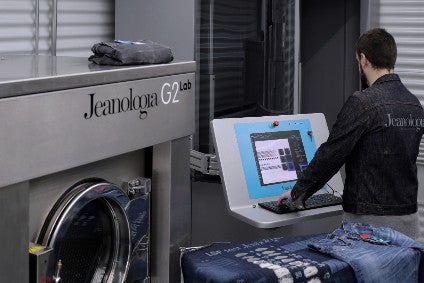 Denim finishing technology specialist Jeanologia is to show how its various technologies can help simplify the design process and increase productivity at next week's Sourcing at Magic trade show in Las Vegas.
The Spanish firm, which specialises in sustainable garment finishing technologies that help reduce chemicals, water, and energy use, says its 'Smart Design' model is based around simplicity, efficiency, reproducibility, scalability, and sustainability.
According to Alex Penades, brand director at Jeanologia in North America, the company has "achieved the perfect integration between hardware and software, equipping designers with tools that make it possible to design in a way that is more intuitive, fast and dynamic; optimising the creative process through the use of technology."
The process starts with the correct selection of fabric through the Light Sensitive Fabric Test. From there, using the selected material and developing the design with Jeanologia's latest laser design software – e-Mark 5 – the designer will integrate the rest of the laser finishing processes, G2 ozone, and e-Flow which are integrated into the firm's SmartLab – a compact research and development center for garment finishing.
Designers will also be able to measure the environmental impact the garment will have using EIM Software, and complete prototypes with SmartLab.