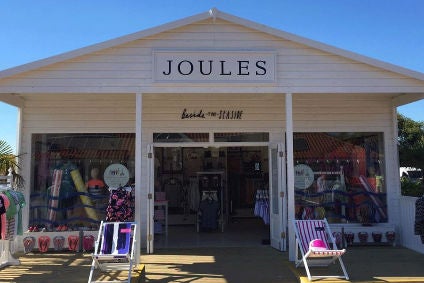 UK fashion retailer Joules has reported a better-than-expected performance for the first half of the year, with double-digit growth in both profit and revenue during the period.
In the 26 weeks to 25 November, underlying pre-tax profit increased 14.7% to GBP10.7m (US$13.9m), while statutory pre-tax profit was up 12.1% to GBP9.3m. However, gross margin at 54.8% was 80 basis points below the comparable period in the prior year.
Revenues, meanwhile, increased by 17.6% to GBP113.1m thanks to strong growth across Joules's retail and wholesale segments. Growth was recorded all product categories with continued momentum in the core womenswear range and the successful extensions of the company's footwear and accessories categories.
On a geographic basis, UK sales increased 11.7%, while international sales jumped 64.2%, now representing 15.8% of group revenue.
"Joules has delivered another strong performance in the first half of year. As previously reported, this outcome is ahead of our initial expectations for the period and has been achieved despite challenging trading conditions," said CEO Colin Porter.
"The business's success during this first half of the year is testament to the strength of our distinctive brand and the efforts of our fantastic team. We continue to benefit from a well-invested and flexible 'total retail' model in the UK, which enables us to respond and adapt to shifting customer preferences. Internationally, the brand continues to grow very well in both the US and Germany."
Kate Ormrod, lead analyst at GlobalData, notes Joules remains a consistent outperformer. "Confidence among retailers on the high street is in short supply but for Joules it is warranted, backed up by its latest H1 results," she says.
"Though retail is tough, being a player in the lifestyle brand segment with a premium positioning affords it greater protection. While brand longevity is a concern for lifestyle players given the competitive market and how popularity can waver, Joules remains appealing owing to its strong design handwriting, leisurewear product offer and evident brand personality, driving customer loyalty. Indeed with a focus on its Britishness, international remains a key opportunity for the brand."
However, Ormrod also notes Joules is making apt preparations to ease any potential pain from a hard Brexit. "It has established a third-party distribution facility in the EU, scheduled earlier product deliveries for its spring/summer 2019 ranges, and hedged currency for more than a year ahead. While we live in uncertain times, Joules' business model and current resilience ensures it remains in good shape to tackle the challenges that lie ahead."