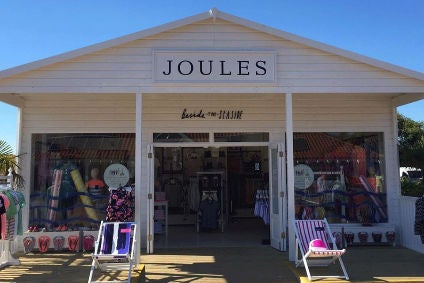 British fashion brand Joules has recorded a fall in first-half sales and profit, impacted by poor Christmas trading due to stock availability issues, non-recurring costs linked to supply chain initiatives, China-US tariffs and the timing of Black Friday this year.
In the 26 weeks to 24 November, sales fell 1.4% to GBP111.6m (US$145.9m) from GBP113.1m a year earlier.
Last year's results included Black Friday, however, this year Black Friday falls into the second half of the trading year for Joules. When including the figures into H1, so over a 27-week period, sales are 3.1% higher than last year.
Profit before tax, meanwhile, was GBP8.4m compared with GBP9.3m a year earlier.
Joules warned last week sales were "significantly behind expectations" due to an internally generated stock availability issue through the important end of season sale event. It also said it was taking a number of strategic decisions in relation to its supply chain operation.
Nick Jones, CEO, commenting on the numbers says: "During the period, we invested further in our infrastructure and customer proposition in order to support long-term sustainable growth. This included the roll-out of our new point of sale system across our store estate, enhancing the future profitability and flexibility of our store channel, progressing our new head office development, and launching our 'Friends of Joules' marketplace. Post period end, this investment has continued with the announcement of improvements to our future logistics capability in the UK and US.
"Since the period end, we have updated on our disappointing Christmas trading performance, resulting from a stock availability issue impacting our online channel. We identified the root cause, have taken steps to rebalance the allocation of stocks between channels for spring/summer 2020 and are strengthening our underlying processes. I am reassured by the performance we saw in the retail channels where we had good stock availability and by our continued online traffic growth, evidencing the strong customer demand which continues to exist for the Joules brand…I am confident in the opportunities for long-term sustainable growth of the Joules brand across multiple territories and I am excited to lead Joules through this next chapter of growth."
Emily Salter, retail analyst at GlobalData, says the figures are "sobering" and is evidence of the "huge impact of weak consumer confidence stemming from Brexit uncertainty."
"Given the tough trading environment in the UK, the retailer should continue to invest in its international proposition by drawing on the appeal of its strong brand identity and "Britishness". The retailer plans to relocate its warehouse in the US to facilitate future growth, but this must be well managed to ensure product availability throughout the transition.
"New CEO Nick Jones will be hoping for a significantly better second half of the year after a disappointing Christmas trading period as sales fell by 4.5% hampered by poor online availability, leading to a shock profit warning. Joules will need to significantly improve its retail sales in H2 to prove that desire for the brand is not waning, and it is well-positioned to do so with its "Total Retail" model."