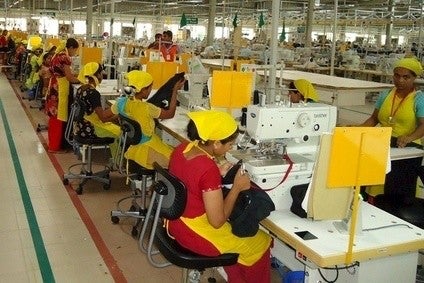 Many major life-threatening safety concerns still remain outstanding in too many of the factories being monitored by the Accord on Fire and Building Safety in Bangladesh, according to its latest update.
In a quarterly progress update to 1 January published today (16 February), the Accord noted that just 127 of the 1,699 factories it monitors are 100% remediated from initial inspections, representing just over 7% of the total. The body said 699 factories have reached 90% or more remediation.
The body has marked overall remediation progress at around 82%, which is calculated by looking at the progress rate of the most common fire, electrical, and structural items that need to be remediated. For example, 96% of factories have removed lockable and/or collapsible gates, and the full installation of fire alarm and fire detectors, including final verification of testing and commissioning, has been completed at 41% of the factories.
The Bangladesh Accord is set to end in around three months' time, but has been granted a six-month extension to operate beyond May 2018 if a new national regulatory body is not ready to take over its work – as is widely anticipated. The so-called 'Transition Accord' will then be reviewed every six months until the conditions for handover have been met, followed by a further transition period of six months.
In an update this week, the Accord said 107 brands and retailers have so far signed the 2018 Transition Accord, covering over 1,200 of the current factories.
"The brands that have signed the 2018 Transition Accord are showing a commitment to transparency and to the safety of Bangladeshi workers," said Valter Sanches, general secretary of IndustriAll Global Union, said of the milestone. "The Accord's legally-binding framework is the only credible way to guarantee that life-threatening fire and structural hazards are remediated in a timely manner in ready-made garment and textile factories."
Christy Hoffman, deputy general secretary of UNI Global Union, added: "We've made improvements to the industry and turning away now simply doesn't make sense. It is also important to make these advancements in worker safety sustainable through functioning Health and Safety Committees and the Transition Accord will put a priority on this work."
Click here to see who has signed the new Bangladesh '2018 Accord'