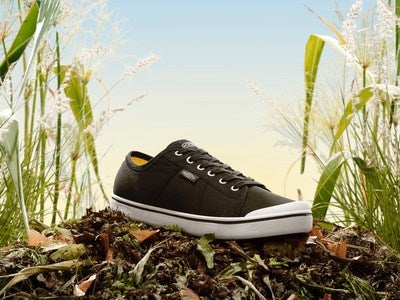 Keen, Inc has debuted its proprietary manufacturing method using agricultural waste to create what it says is the industry's first 'Field to Foot' sneakers with plant-based soles constructed without chemical solvents.
Part of Keen's Detox The Planet Initiative, the 'Field to Foot' (F2F) sneakers were created by the company's Advanced Concepts Team. F2F Tech was born out of  Keen's commitment to consciously create footwear that not only encourages people to go outside but simultaneously minimises the negative impact on the planet.
Keen has been researching and working with harvested waste materials in its footwear since 2007.  Specifically, it's taken two years to develop F2F Tech, with the brand partnering with Huntsman Polyurethane in the development and testing of the plant-based compounds in the shoes.
The launch of the first styles, the Eldon sneaker for men and Elsa V sneaker for women, also combines the rollout of Keen's 'un-box' packaging pilot which uses about 63% less cardboard than a traditional shoebox and is 100% biodegradable.
"With F2F Technology, Keen is providing measurable solutions to engineering footwear that is less damaging to the environment," says Steve Workman, senior director, global product innovations. "F2F, using advanced polyurethane sustainable technologies, is the most significant environmental technology launch in Keen's history. Combined with the pilot of Keen's 'un-box' this collection is a meaningful step toward setting a new industry standard for sustainable footwear.
Steve Burge, a UK based expert on polyurethane,  who worked with Keen to develop the technology, adds: "The use of agricultural waste within polyurethane is an important step toward transforming the footwear industry supply chain. Not only does F2F Technology utilise waste from the agricultural industry, it offsets the use of petrochemicals while eliminating the use of chemical solvents. The outsole on these shoes is 51% agricultural waste.  And this is just a first step."
The Eldon and Elsa V sneakers are available as a limited edition online now priced at US$120.
Earlier this month, Keen unveiled a new certification programme providing transparency into how much industrial waste is upcycled into its shoes.
The company also established an open-sourced model for how it creates PFC-free footwear earlier this year.