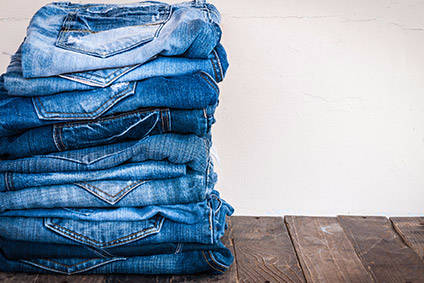 Kingpins24, the online edition of denim trade show Kingpins, took place last week and for the first time allowed attendees to review collections from denim mills via its Exchange platform. Companies across the denim supply chain showcased their innovations planned for spring/summer 2021, with a strong emphasis on sustainability and the technology driving this greener manufacturing.
Tonello
Technology company Tonello partnered with denim designer Piero Turk to launch a denim collection using the latest responsible technologies and created with the most eco-friendly fabrics. The collection showcases Tonello's new finish process, The Laundry (R)Evolution. It optimises the entire garment finishing process using two technologies: Lazer Blaze, which replaces manual abrasion; and The All-in-One System, which performs all washing operations by integrating four technologies into a single machine.
Soorty Pakistan
Denim mill Soorty has developed a new technology to help address comfort and cut down on waste from size-related returns. Re-Sync is a one-size-fits-all technology for crafting adaptive jeans, minimising the industry's waste. Re-Sync sculpts the body with a 360-degree stretch comfort that enables the garments to "perform well" two sizes up and two sizes down.
"With a reality check on the world we are living in today, and the future we all want to have, a fitting efficiency has become more critical than ever as consumers hesitate to go back to brick and mortar store and switch to shopping online instead," the company says. "So many people around the world think about returning items if they don't fit properly, without thinking about where these returns will end up. The one-size-fits-all technology will be our step forward towards an inclusive fashion and with environmental and financial savings."
Calik Denim
Turkish denim mill Calik Denim has introduced a patent-pending process called E-Denim, which allows the company to incorporate higher recycled fibre content in a ring-spun yarn.
"We produce very fine yarn, which is made from 100% recycled fibres," the company said. "After that, we put this yarn in the centre and wrap it with the optimally blended recycled cotton and high-quality cotton to produce the finished supreme spun yarn."
With this technology, Calik is able to use 40-50% of recycled material in stretch fabrics, and this can be doubled in rigid fabrics.
Artistic Fabric Mills (AFM)
AFM has been looking at a new concept from fibre all the way through to the garment finishing process.
"The laundry machines we have are the latest technology where we can utilise the minimum amount of water, it has nano bubble technology, and it has ozone technology," says Faheem Dar, COO garment division. "So utilising these machines, we can have a significant decrease regarding water consumption, chemicals, and energy utilisation. One pair of jeans is conventionally washed with 80 litres of water. But with new technology, we can wash one with just one glass of water. With all the technology available at the moment, there is no excuse for anybody not to care about the environment."
The company says it is working a lot with post-consumer waste but is also now working with industrial waste. Waste that AFM creates in the manufacturing of denim is put back into the recycling facility. It takes out the cotton fibre, and uses that in creating a fresh pair of jeans.
The Lycra Company
The Lycra Company launched a new denim seam slippage solution for applications in single-core spandex fabrics that require durable stretch and good recovery power. The patent-pending Anti-Slip fibre helps maintain garment appearance wash after wash and wear after wear.
Using Lycra Anti-Slip fibre in the core of Lycra dualFX technology yarn further enhances anti-slippage performance. Combining Lycra Anti-Slip fibre and Lycra T400 fibre, meanwhile, delivers the high stretch of Lycra fibre with exceptional anti-slippage properties and the excellent recovery power of Lycra T400 fibre, the company says.
PVH Corp
In 2019, Tommy Jeans became the first global brand in the denim market to use 100% recycled cotton and to bring such garments to an industrial scale. The company drives circularity by the avoidance of virgin materials, and the update of pre- and post-consumer recycled cotton. The jeans include leftover cotton salvaged from factory floors and discarded linen. The two combined are recycled using an innovative entirely mechanical process, which uses less water and chemicals, reduces waste, and generates less carbon dioxide.
Closing the circle, the brand is piloting Tommy for Life in the Netherlands, which will take pre-owned and unusable Tommy pieces to make them as good as new or deconstruct them into completely new styles.
The brand is also focusing on the use of hemp. "Hemp can be a great alternative to conventional fibres such as cotton," says Femke Jonkmans, product developer, Tommy. "Circular aspects can include: being grown without irrigation and chemicals, it's returning nutrition to the soil, and it can capture large volumes of Co2." Tommy says it only sources European grown hemp, which ensures the hemp is grown, processed and transformed 100% mechanically and organically. "It creates an authentic look and has a soft hand feel. Hemp has a good breathability and is naturally antibacterial," says Jonkmans.
"Future innovations are transparency and traceability technologies. We have a development in a Bossa fabric, which includes the fibre trace nano technology. We are also looking into optical finger prints and DNA solutions. Traceability technologies will allow us to identify and trace the origin of our fibres grown or recycled all the way through our supply chain. This will ensure the reliability of our environmental and sustainability claims. This way, valuable information can be made available to all elements of the value chain, which will allow common understanding, accessibility and clarity."