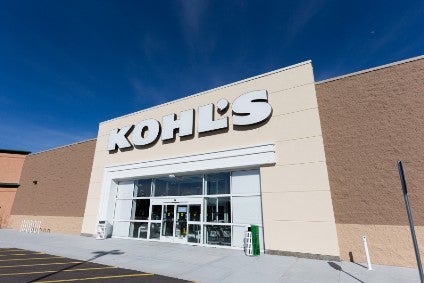 US department store chain Kohl's is exiting eight "down-trending" womenswear brands as it moves to tighten up its apparel offering, following a 43.5% sales plunge and booking a loss in its most recent quarterly financial update.
Kohl's booked a 43.5% drop in first-quarter sales to US$2.16bn from $3.82bn in the prior-year period. For the three months to 2 May, net loss amounted to $541m, compared to net income of $62m a year ago, while gross margin narrowed to 17.3% from 36.8%. On a non-GAAP basis, adjusted net loss was $495m, compared to an adjusted net income of $98m last time.
In a post-earnings analyst call, yesterday (19 May), the group said while it posted digital sales growth in all categories, apparel and footwear lagged overall growth.
The group is now looking at "modernising" its womenswear business. This will involve what CEO Michelle Gass called "several bold moves".
"We will exit eight down-trending women's private brands. These include Dana Buchman, Jennifer Lopez, Mudd, Candie's, Rock & Republic, Popsugar, Elle and Juicy Couture. This will create space to introduce a more compelling and current offering to our customers while improving the overall clarity through reduced choice counts."
Conversely, it is introducing several new brands that have a strong presence in the casualwear categories, including Lands' End and Toms.
"Our team here is continuing to seek out other relevant brands to offer to our Kohl's customers. We look forward to sharing more in the future," said Gass.
"We think the combination of clarity, reducing choice count, fewer brands, really elevating our existing strong brands and then bringing in some newness that is highly relevant to our new customers, especially the millennial customer — we feel like we're on a good path there."