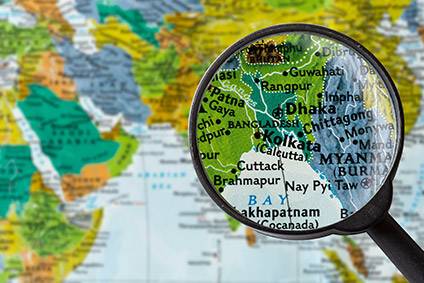 Labour activists and trade unionists say they are staging demonstrations at Bangladeshi embassies and consulates in cities around the world this week, calling for living wages, safe factories, and a halt to repression against the country's garment workers.
The action has been prompted, in part, by concern following the violent responses to recent wage-related protests – as well as protracted court proceedings around the future of the Accord on Fire and Building Safety in Bangladesh that threaten progress in the field of factory safety.
In December, thousands of factory workers took to the streets after the monthly minimum wage rose to BDT8,000 (US$94). While this was a 51% increase from the previous BDT5300 (US$62), it left some workers some receiving just a few cents more. The government responded to the demonstrations by setting out a new wage structure that is due to come into effect from February, and will see Grade 3, 4 and 5 workers – the grades in which striking workers most wanted to see changes – benefit from an increase.
There has also been severe repression of workers, the labour activists say, claiming factory managers have fired more than 1,000 workers for participation in the protests. Dozens of workers, including union representatives, have also been arrested.
"The fact remains that, even after recent amendments, workers in Bangladesh still earn poverty wages," says Ben Vanpeperstraete of Clean Clothes Campaign – which is urging the government of Bangladesh "to respect workers' rights to peaceful assembly and demonstration, to release all workers and union representatives that were arrested and to drop charges related to the demonstrations."
The current spate of violence comes amid ongoing proceedings at Bangladesh's Supreme Court, that have created uncertainty about the future of the Accord on Fire and Building Safety in Bangladesh.
The government of Bangladesh says its own inspection programme, the Remediation and Coordination Cell (RCC), is ready to take over and that the Accord should only be allowed to continue temporarily with government oversight.
"However, the RCC has not yet demonstrated the capacity or willingness to inspect and enforce factory safety to the same standards," activists say.
"The progress on factory safety in Bangladesh was hard-won over the last five and half years," says Liana Foxvog of International Labor Rights Forum (ILRF) says. "The uncertainty around the Accord, in concert with the recent repression, have now put those gains at risk.
"If workers are afraid to voice concerns about workplace safety or refuse dangerous work, brands and consumers need to know that unsafe practices will return."
The groups say demonstrations and delivery of letters of concern will take place in at Bangladeshi embassies and consulates in Berlin, Brussels, London, Geneva, Madrid, New York, The Hague, Washington DC.