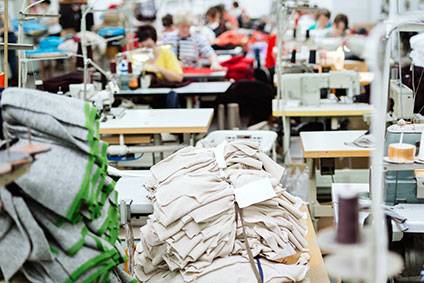 Leicester's mayor Sir Peter Soulsby has called upon major UK fashion brands including Boohoo, ASOS, TK Maxx, Missguided, River Island, Next, and New Look to sign an agreement in which they agree to procure goods only from manufacturers that recognise and work with trade unions.
Soulsby, together with the regional secretary of trade unions representative body TUC Midlands, Lee Barron, says that many companies cannot demonstrate their products have not been produced by exploited workers operating in dangerous conditions, or under modern slavery conditions.
Soulsby and the TUC will be hosting a round table summit with retailers and unions at the end of September to engage in a discussion aimed at resolving the issue and get them to sign the agreement.
"This is not a new problem but it has been once again highlighted by recent revelations about minimum wage violations and suggestions that working conditions in the industry may have been a catalyst for the spike in Covid-19 cases in the city," Soulsby said.
"We have been working for some time to tackle this challenge but it isn't something the local authority can solve alone, nor is it Leicester's problem alone.
"I am calling on all of the retailers we have written to today to show their commitment by joining us at the round table summit and to sign up to the TUC agreement which, if implemented, would give greater employment protection and security to thousands of people in the city."
Deputy city mayor councillor Adam Clarke added: "We have a proud textiles heritage in Leicester and some great manufacturers producing high-quality garments. I believe that Leicester should be the engine of this resurgent UK garment industry and that this could contribute positively to our local economy – but only if ethical concerns are addressed and garment workers are treated with the respect they deserve."
Meanwhile, Barron said some retailers have tried to put systems in place to demonstrate that they procure ethically but noted "too many garments, manufactured by people working in terrible conditions and for poverty wages, continue to get into their supply chains."
He added: "There is only one way that these large fashion retailers can be sure that health and safety and other good employment practices are being adhered to in their supply chains and that is by insisting that they will only procure from manufacturers who recognise a trade union.
"Trade unions will not only help and support their members but they can be a free and effective solution for an industry plagued by unethical employment practices. If retailers are serious about resolving this issue then we will gladly work with them to transform the industry and improve working conditions in factories in Leicester once and for all."
It was announced last week that garment factories across Leicester in the UK have been subject to unannounced visits by enforcement body the Gangmasters and Labour Abuse Authority (GLAA) to ensure the ethical treatment of workers and compliance with regulations.
The operation, which has seen the GLAA carry out spot checks across the city, follows recent allegations of unsafe working conditions and the exploitation of workers during a localised lockdown in Leicester as a result of the Covid-19 pandemic. Online fashion retailer Boohoo, which owns the PrettyLittleThing and Nasty Gal brands, was alleged to be paying its workers as little as GBP3 (US$3.86) an hour in unsafe conditions. A number of retailers ditched the group's brands from their websites as a result of the claims.
Boohoo subsequently launched an independent review of its UK supply chain and warned it would axe relationships with factories that breached its supplier code of conduct.
But in a letter to Boohoo CEO John Lyttle last week, UK home secretary Priti Patel said the brand must take further steps to be more transparent about its working practices to ensure there could be "effective public scrutiny" of non-compliant suppliers.
"I am concerned that your response to recent reports of labour exploitation in your supply chains appears to be focused on terminating contracts with suppliers found to have breached your code of conduct, rather than on protecting vulnerable workers," Patel said in the letter cited by The Financial Times.
"It is now more important than ever before that businesses step up and take responsibility for conditions in their supply chains."
Patel added that she was "deeply concerned" by "any potential role the fast fashion industry may be playing in fuelling alleged criminal, inhumane and abusive practices in Leicester's garment sector".
A spokesperson for Boohoo said: "The Boohoo Group has updated the Home Secretary on the steps we have taken following reports of malpractice in the Leicester garment industry. These steps include commissioning a comprehensive independent review of our UK supply chain which is being led by senior barrister, Alison Levitt QC.
"We welcome the comprehensive response from the Home Secretary and the recognition of how seriously we are treating the allegations and we look forward to sitting down with the Home Secretary following completion of the independent review to discuss how government and industry can act together to ensure that Made in Britain is a label of pride for all."