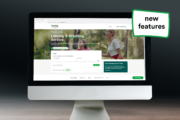 Lenzing Group says users will be able to use the new features – Artwork Approval, Fiber Blending Quick Check Tool, Onboarding Tool, E-Branding Master Class and E-Branding Helpdesk – for an enhanced experience providing greater convenience.
These new features are available for the company's Tencel, Lenzing Ecovero and Veocel brands. They also complement existing services, such as fibre certification, application for product licenses, and branding materials.
"Since the introduction of Lenzing E-Branding Service in 2018, we have been on a mission to pioneer the digitalisation of value chain management," said Harold Weghorst, vice president of global marketing and branding at Lenzing Group. "While we remain committed to providing unprecedented traceability across the industry value chain, ensuring better user experience remains the key foundation of the Lenzing E-Branding Service.
"With our latest upgrade, users can leverage the new Artwork Approval process to access licensed marketing or co-branding materials with a few clicks, and learn about our service offerings via a suite of comprehensive resources. While material verification during the production process is important, we will not stop there. We aim to extend such verification services to finished garments, enabling greater traceability along the value chain."
Artwork Approval – As more consumers become aware of greenwashing, there is a growing need for brands and retailers to enhance descriptions of the sustainability elements in their products. Since 2017, the number of applications for fabric certifications, product licenses and swing-tickets in the E-Branding Service platform has grown exponentially, by around 1.5 times annually. To address the growing need for co-branded marketing content, the Artwork Approval process was launched to ensure fast turnaround for artwork confirmations. With a structured online collection of approved artworks, users can access their artwork collection anytime, anywhere, and apply selected artwork for multiple license applications.
Fiber Blending Quick Check Tool – To ensure accurate labelling of product ingredient, fabric manufacturers can leverage the new Fiber Blending Quick Check Tool to easily check whether the planned fibre blend of a specific fabric is in accordance with Lenzing's Certification Standards. The tool can also verify the correct Lenzing fibre brand for each fibre type, which significantly helps retailers promote the final product among consumers. The Fiber Blending Quick Check Tool can be found on the landing page of the E-Branding Service. It is accessible to all visitors to the platform and does not require one to register.
Onboarding Tool, E-Branding Master Class and Helpdesk – To support the increasing number of users from different regions, the new E-Branding Service Onboarding Tool features a series of step-by-step guides that advises users on how to use the platform's features. The recently launched E-Branding Masterclass also enables users to expand their knowledge of the platform through live webinars and recorded self-study learning modules covering certification and licensing of Lenzing's Tencel Veocel and Ecovero brands. The self-study learning modules are available in English with subtitles in ten languages. The E-Branding Masterclass is supplemented by the E-Branding Helpdesk service which provides users with live support from a dedicated team of Helpdesk specialists, creating a comprehensive knowledge sharing platform.
Last month, Lenzing Group became a partner of the recently-launched CISUTAC (Circular and Sustainable Textile and Clothing) project co-funded by the European Union (EU).