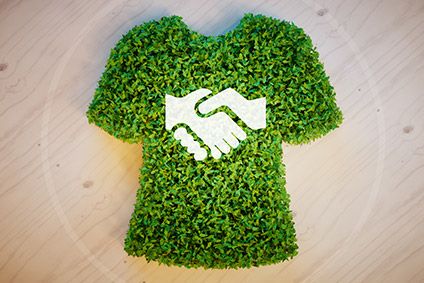 An international partnership of textile and apparel companies, including Austrian cellulosic fibre producer Lenzing and Spanish denim mill Tejidos Royo, has developed a new sustainable collection to illustrate that fashion can be both responsible and beautiful given the right supply chain partnerships.
The 15-piece womenswear Planet REhab collection has been created by Guatemalan designer Juan Carlos Gordillo who partnered with Lenzing, Tejidos Royo, Italian textile chemical company Officina+39 and Italian finishing technology specialist Tonello.
Gordillo designed the Rehab collection around Tencel and Tencel x Refibra branded lyocell fabrics from Tejidos Royo. The fabrics were dyed using Recycrom technology from Officina+39 and the resultant garments finished by Tonello.
Meanwhile, Lenzing's Tencel and Tencel x Refibra branded lyocell fibres enhance the sustainability of the fabrics. Made from renewable wood in a closed loop, energy and resource efficient manufacturing process, Tencel and Tencel x Refibra fibers made with recycled cotton scraps provide the fabrics with softness, smoothness, tenacity, and colour intensity.
The companies recognise that achieving their goal requires both working collaboratively and responsibly – seeking out more sustainable raw materials, implementing new technologies and employing processes that reduce resource utilisation and waste.
"Planet REhab is my tribute to the ocean with its deep colours and flowing shape. The collection also protects the ocean because it is created from the sustainable fibres, fabrics, dyes, and finishing techniques perfected by the Planet REhab companies," Gordillo said. "While many companies talk about being sustainable, these companies had the courage to actually create sustainable products and processes that benefit the industry, society, and the planet. I hope this collection can inspire other designers to prioritise sustainability in their creative processes."
Tricia Carey, director of global business development for denim at Lenzing Group, adds: "Juan Carlos has proven Planet REhab's premise that global collaboration of sustainability-minded companies results in gorgeous designs that are made with respect for the environment."