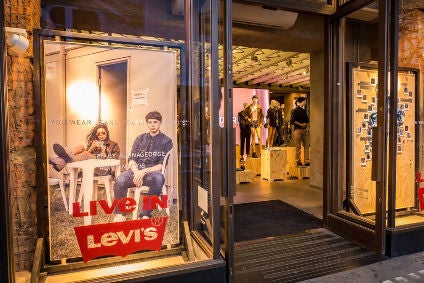 Jeans giant Levi Strauss & Co has raised its guidance for the first six months after making a strong start to the year and beating internal expectations for the first quarter.
For the three months ended 28 February, the denim specialist reported a 13% decline in net revenues to US$1.31bn on a reported and 16% on a constant-currency basis from $1.51bn last time. The result came in above analysts' expectations of $1.25bn, according to Reuters.
Direct-to-consumer net revenues fell 26%, partially offset by 25% growth in the company-operated e-commerce business. Direct-to-consumer stores and e-commerce comprised 26% and 10%, respectively, of total company reported net revenues in the quarter. The lack of a Black Friday in the current year adversely impacted direct-to-consumer net revenues growth comparison by about five percentage points, and total company net revenues comparison by three percentage points.
Global digital revenues, which include e-commerce sites as well as the online business of its pure-play and traditional wholesale customers, grew 41% compared to last year, and comprised about 26% of first-quarter 2021 revenues, up from 16% a year ago.
Geographically, net revenues in the Americas declined 14% on a reported basis to $641m, while those in Europe were down 16% to $429m. In Asia, net revenues fell 5% on a reported basis to $235m.
Net income, meanwhile, dropped 6.5% to $143m from $153m in the same quarter of the prior year, due to higher interest expense and the adverse revenue impact of Covid-19. Adjusted net income was $140m, as compared to $162m last time.
Reported gross margin increased 250 basis points to 58.2%, a record high for the company, due to favourable product mix, price increases, lower promotions, and a $7.2m reduction in estimated Covid-19 related inventory charges, partially offset by a lower proportion of sales in the company's direct-to-consumer channel, which has higher margins.
"We've started the year strong, beating our internal expectations even as we are lapping a particularly good quarter in the prior year," said Chip Bergh, CEO of Levi Strauss & Co. "Our strong results this quarter were driven by faster-than-expected recovery in our business from our relentless focus on the priorities that are driving outsized performance. We continue to lean into our strategies – leading with our brands, investing in direct-to-consumer and diversifying our business – while still operating prudently to manage the ongoing uncertainty, especially in Europe.
"As the vaccine rollout continues and consumer excitement returns, I am more confident than ever that we will emerge from the pandemic a stronger business and drive sustainable, profitable growth."
Looking ahead, the company has raised its fiscal first-half 2021 reported net revenues outlook to 24-25% growth compared to the first half of 2020 and raised its first-half adjusted EPS estimate to $0.41-$0.42. The outlook assumes no significant worsening of the Covid-19 pandemic or dramatic incremental closure of global economies.
Digital fails to dull store closure blow
Gemma Boothroyd, retail analyst at leading data and analytics company GlobalData, notes decent digital sales growth lent a helping hand to Levi's during Q1 FY2020/21, as net revenue declined a moderate $200m to $1.31bn, with Covid-19 store closures continuing to abate performance across the brand's store fleet.
"European restrictions hit Levi's particularly hard, with the region's sales falling 16.4% due to one-third of stores being shut, and weakened footfall in stores that were open, especially those based in tourist locations. But with vaccination ramping up in its home market of the US and the UK, Levi's has raised its H1 FY2020/21 revenue growth guidance to 24-25%, from 18-20%, indicating light at the end of the tunnel.
"Levi's DTC revenue fell 26% in Q1, which is surprising as the channel has been an outperformer for many other brands throughout the pandemic. To cope with the blow of its own temporary store closures, Levi's stepped up its multichannel initiatives, enabling it to increase its online penetration by 7ppts to 26% for Q1, however, this is relatively low when considering store closures. Levi's has more work to do in advancing its digital proposition, with faster and more affordable delivery options a must, and stronger marketing of its 247 membership, which offers free shipping and exclusive promotions. The brand is, however, bolstering its investment in AI and machine learning to predict category trends and online purchasing behaviour, which will allow it to remain nimble as it pivots away from its traditional denim offering.
"Levi's is paving the way for new products beyond its notoriously denim-centric offering. With the casualisation trend making waves throughout the pandemic, jeans have fallen in popularity, and Levi's is wise to focus on alternative product categories such as casual shirts and homewares. Levi's would also benefit from stepping into the sportswear arena, capitalising on growing consumer demand for athleisure."