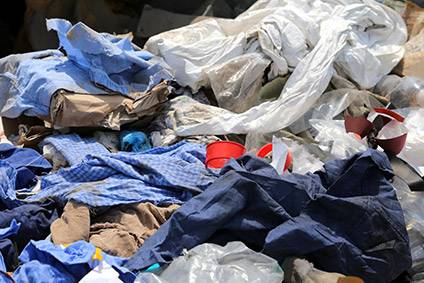 The partnership will see online resale store ThredUp power an apparel clean-out programme on behalf of LG home appliances in a move that furthers the company's commitment to extending the life of clothing and educating about responsible clothing care.
Part of LG's 'Second Life' campaign, which aims to inspire people to care for what they wear and reduce their fashion footprint, the new initiative makes it simple for consumers to responsibly clean out unwanted items from their closets and give them a second life. Anyone in the US will be able to order a ThredUp x LG Donation Clean Out Kit or print a donation label online.
Customers can fill their Donation Clean Out Kit or any shippable box with women's and kids' apparel, shoes, and accessories and ship them to ThredUp for free. For each Donation Clean Out Kit thredUP receives, LG and ThredUp will donate US$5 to a select charity of the seller's choice. ThredUp then gives resellable items a second life by making them available in its marketplace.
"As a leader in fabric care, LG is invested in how to care for your clothes throughout their lifecycle – from how you wash them to how you ultimately pass them on. Working with ThredUp on this nationwide initiative enables us to scale these efforts in a unique way, while shining a light on the important issue of textile waste and inspiring consumers to take responsible action for the planet," says Peggy Ang, head of marketing at LG Electronics USA.
LG joins other leading brands and retailers that rely on RaaS to deliver customised, scalable resale experiences to their customers, including Gap Inc, Madewell, and Reformation.
"At ThredUp, we believe that to take fashion from linear to circular, we need to rethink every aspect of the clothing life cycle," says Pooja Sethi, senior vice president and general manager of Resale-as-a-Service at ThredUp. "We are thrilled to work with an innovative company like LG to power apparel cleanout for their customers and believe this deal shows that any company – not just fashion retailers – can participate in apparel resale through RaaS, reaching new audiences and paving the way for a more sustainable future for fashion."
Last week, J.Crew brand Madewell partnered with ThredUp to launch its own resale platform, Madewell Forever, through which it aims to collect 1m pairs of denim by 2023.