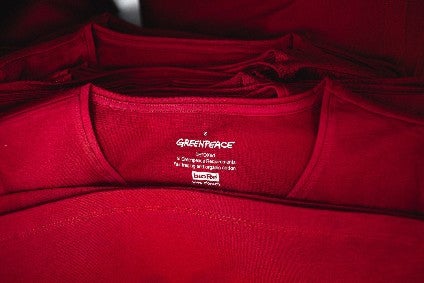 The first – and so far the only – company in the world to work entirely according to Greenpeace's textiles procurement standard has been named as Lithuanian jersey fabric specialist Utenos trikotažas.
The environmental activist group started working with suppliers in May last year to see if it was possible to produce products such as T-shirts that are free from hazardous chemicals in line with its Detox requirements.
Greenpeace now says it has started to produce its own T-shirts at Utenos trikotažas, with the first batch already finished and production set to continue later this year.
The Greenpeace textiles procurement standard requires Utenos trikotažas to control the chemicals used via complete testing of the wastewaters released when it bleaches, dyes, washes and prints the cotton.
"It is the standard for any fashion brand really looking to achieve credibility in terms of sustainability," says Viola Wohlgemuth, Greenpeace consumption and toxics campaigner.
"Utenos trikotažas has become the first manufacturer to prove it is compliant with these requirements. Under the standard, organically farmed natural fibres, production tested free of harmful substances, fair pay and transparency are uniquely combined."
According to Wohlgemuth, Utenos trikotažas and its partners have shown that for the first time ever, steps to avoid hazardous chemical use and contamination have been taken across the entire production chain, from fibres in the processing of raw materials, to dyeing and printing according to Detox principles, and finally to the sewing and packaging of high-quality garments.
"This collection proves that truly clean, fair and completely transparent production is in fact possible. And not in some boutique sewing shop but at an industrial level."
Greenpeace, which has for the past nine years been pushing the apparel industry to eliminate the use and discharge of hazardous chemicals from the textile supply chain through its Detox campaign, was forced to introduce the new standard after its own merchandise was found to contain hazardous chemicals.
The new standard applies only to natural fibre based textile products, and forbids the intentional use of hazardous chemicals in all steps of the manufacturing process, including printing and chemical finishing (for dirt or water repellency).
Suppliers have to provide transparency of the manufacturing supply chain, including verification of wastewater discharges and facilities; and verification of the raw materials and the final product. They also have to provide the names and locations of all subcontractors, and identify wet process supplier facilities by completing a supply chain transparency form or providing an interactive map of supply chain.
Other requirements for contracted suppliers are to explain how to prevent contamination of the textile products with hazardous chemicals as a result of transport or storage; and not to use PVC materials or biocides during transport or storage.
The standard also specifies the use of tools and certifications provided by Oeko-Tex – specifically the Detox to Zero by Oeko-Tex – GOTs (the Global Organic Textiles Standard) and Fairtrade.