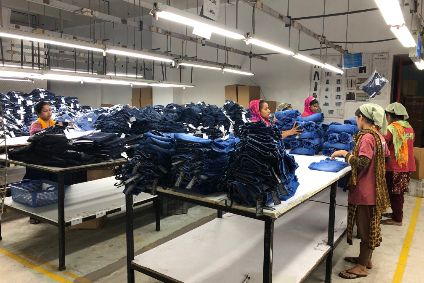 Lost Stock, an initiative offering consumers the chance to purchase clothing from cancelled apparel orders from Bangladesh, has responded to criticism that questions the ethics of its operation.
Created by online clothing retailer platform Mallzee in May, Lost Stock was set up to help support Bangladesh's clothing manufacturing industry and its workers through the coronavirus pandemic.
According to the Bangladesh Garment Manufacturers and Exporters Association (BGMEA), the sector lost over US$3bn in cancelled or suspended orders during the crisis. The Lost Stock venture is selling these clothes at half the price in boxes based on customer's preferences.
Ethical quandry
However, the initiative has come under fire from workers' rights organisation Remake, organisers of the #PayUp campaign, that say the innovative solution to waste may not be all that it's cracked up to be.
"While the mystery box aims to help garment makers, Lost Stock may pose an ethical quandary to consumers who want to ensure that brands #PayUp."
It adds: "We know that at least some of the clothing brands being sold by Lost Stock are pieces of clothing from brands that aren't paying up (Arcadia Group/Topshop). By removing brand labels from their clothing, Lost Stock is removing accountability for those brands."
The #PayUp campaign urges major fashion brands to agree to pay for orders both completed and in production. It has received 243,000-plus signatures of support, and 19 brands including PVH Corp, Gap Inc, Under Armour and H&M have agreed to pay for back orders totalling upward of US$600m in Bangladesh. Brands including Primark and C&A remain on the campaign's list of those that have not yet promised to pay.
"We have long held at Remake the belief that we cannot "buy our way into a sustainable fashion future"," says Remake founder, Ayesha Barenblat. "We worry that shoppers think getting a steeply discounted box is a way to "save poor garment workers" and to keep supporting fast fashion. While Lost Stock is an innovative emergency approach to diverting unclaimed products, let's be clear that the stock is not lost. It is made from stolen labor and what we are asking for is price transparency here.
"The average worker in Bangladesh makes $96 per month and many workers have been globally fighting for their basic wage payment during the pandemic. The LS box puts in XX valued goods at an XX discount price, perpetuating to consumers this notion that you can get clothes so cheap and be a "saviour"," Barenblat continues.
"We would invite Lost Stock to share with us how much they make in marketing and distributing the boxes? What the factory cut is? and what the end garment maker gets in her hands? So we are not perpetuating the theft and violence of fast fashion with this scheme. It is absolutely imperative to divert product from landfills but let us be clear that this is a temporary and important solution to a systemic problem of how our clothes are produced, consumed and discarded."
Alleviating a crisis
A spokesperson for Lost Stock, however, told just-style it is aware that at least some of the clothing brands being sold are pieces of clothing from brands that aren't paying up.
However, it adds: "We launched Lost Stock in response to retailers cancelling stock orders to try to alleviate the humanitarian and environmental crisis that these cancelled orders were causing in Bangladesh.
"We have always been clear that we are buying cancelled stock (and it's been widely reported which retailers have cancelled orders) but we can't specify which brands these products were originally destined for as (a) its illegal for us to promote and sell garments with another brand labelling in the UK, (b) the factories we are buying from have agreements in place with the retailers to de-label all items before passing them onto us and (c) longer-term factories need to maintain and build their relationships with retailers as they will most likely be working with them again in the future.
"Our focus has always been on helping and helping quickly in buying this stock and paying factories and supporting workers whilst also preventing brand new clothes going to waste."
Lost Stock says that by removing brand labels from the clothing, it should not remove accountability, and that Remake and others in this space are doing "a fantastic job of holding companies accountable – our focus though is on just getting as much support to workers as quickly as possible".
The venture negotiates a cash price with each factory it works with. This level is then topped up with financial support for their workers through the Sajida Foundation. "This is designed to ensure that workers benefit from Lost Stock and we can offer transparency to consumers who buy from us. Combined, these payments match and in some cases exceed the FOB rates that were originally agreed with buyers," the spokesperson said.
Nazma Akter, founder of the NGO Awaj Foundation, however, believes Lost Stock is not a solution for the challenges workers are facing.
"By jumping in and buying the goods emerging from holding and cancellations, Lost Stock acts as a middleman without any direct business responsibilities towards workers. In spite of their having charitable goals, there is no accountability mechanism or way of negotiation with them, and they are not taking any risk or assuming any responsibility.
"Suppliers agree to sell products to them because they have no choice and it is an incredibly difficult time for them, but they will make a loss on the sales. Lost Stock didn't buy the raw materials or pay worker wages. Workers, who are our ultimate concern, will not get the wages they are due for producing those products."
Akter adds: "Although we often find ourselves critical of brands, at least if the product goes to their stores, we can make them accountable for the conditions in which the products are made. If people buy from a store, we can connect to them and say 'here's what we want to change.' No label means no accountability.
"Lost Stock is providing a good service for the consumer, who may find it appealing and get significant discounts for products, but it's barely helpful for suppliers and it doesn't help to improve our society. The charity hand-outs that workers receive are no replacement for the wages that they are due."
Meanwhile, the BGMEA offered a similar view: "Factories may be forced to clear the stocks and get rid of the liabilities as much as possible by selling the cancelled goods or disposing of through other means, to remain in existence. But this doesn't warrant indemnity of a buyer from its liability, since factories may not recover the total value of goods by selling or disposing through alternate means, and there has to be a lot of other added costs due to warehousing, bank interest due to extended tenor of liability, etc."