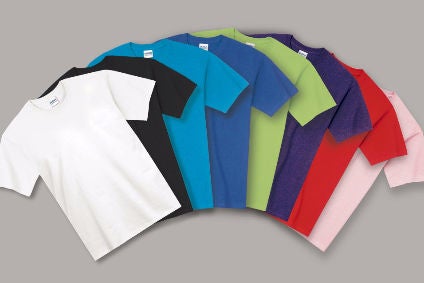 Gildan Activewear has reported a drop in fourth-quarter and full-year profit after being hit by falling sales and a charge related to a shift in strategy aimed at simplifying its product portfolio and reducing complexity in manufacturing and distribution.
As part of its Back to Basics strategy, the Canadian apparel maker is reducing its imprintables product line SKU (stock-keeping units), by exiting all ship to-the-piece activities and discontinuing overlapping and less productive styles and SKUs between brands. The move will allow it to focus on its distributor business, simplify its product offering, and reduce costs.
In connection with this, Gildan incurred a US$55m charge in the fourth quarter, partially offset by a $19m deferred income tax recovery.
Speaking to analysts on the firm's fourth-quarter and full-year earnings call, CFO Rhodri Harries said: "The ship-to-the-piece business is a much more fragmented smaller volume business, which does not fit with our high-volume large-scale imprintables franchise."
The company also noted $16.0m of restructuring and acquisition-related costs in the fourth quarter and $47.3m for the full year of 2019 related to the consolidation of textile, hosiery, sewing, and yarn operations, including the decision at the end of October to relocate its Mexican operations to Central America and the Caribbean Basin.
And it said it is continuing to work on plans to expand capacity both in Central America and Bangladesh to support top-line growth opportunities.
Fourth-quarter
For the three months to 29 December, Gildan reported an 11.3% drop in quarterly net sales to US$658.7m. The decline was mainly the result of lower unit sales volumes and the impact of a $19m sales return allowance for discontinued SKUs. Before accounting for the sales return allowance, total net sales were essentially in line with expectations, the company said.
Activewear sales dropped to $483.5m, down $85.8m compared to last year, due primarily to lower unit sales volumes, as well as the impact of the sales return allowance. Sales in the hosiery and underwear category, meanwhile, totalled $175.1m, up $1.7m, as strong double-digit sales volume growth of underwear was largely offset by lower socks sales.
E-commerce sales were strong in the quarter, up more than 50%.
Net earnings fell 45.5% to $32.5m, compared with $59.6m a year ago, hampered by lower sales and a lower operating margin, including the impact of the $55m Back to Basics charge. Adjusted net earnings amounted to $83.4m in comparison to $88.9m last year.
Reported gross margin narrowed to 17.9% from 26.3%. Excluding the $55m charge, adjusted gross margin was 25.6% compared to 26.3% for the same quarter last year, down 70 basis points.
Full-year results
For the full year, net sales totalled $2.82bn, down 2.9% over last year, reflecting a 2.6% decline in activewear sales and a drop of 4.3% in the hosiery and underwear category.
Net earnings for 2019 fell 25.9% to $259.8m, down from $350.8m in 2018. Adjusted net earnings totalled $339.6m, compared to $393.1m in the prior year.
Full year gross margin was 24.9%, down 280 basis points from the previous year's 27.7%. Excluding charges, adjusted gross margin was 26.7%, down 100 basis points on the prior year.
Outlook
For 2020, Gildan is projecting EPS in the range of $1.70 to $1.80, on expected sales growth for the year of 2% to 4% with gains in imprintables, retail, and private brands. Growth is expected to be driven by increases in both activewear and the hosiery and underwear category.
The guidance does not reflect any meaningful impact on its business resulting from the current outbreak of the coronavirus in China.
Harries told analysts: "Our imprintables business in China currently represents a small portion of our total overall sales. Further, from a supply chain perspective, while we do source some hosiery from China and are working on contingency plans, given our inventory levels at this time we do not currently foresee any material impact on supply, although we will continue to monitor as a situation evolve."