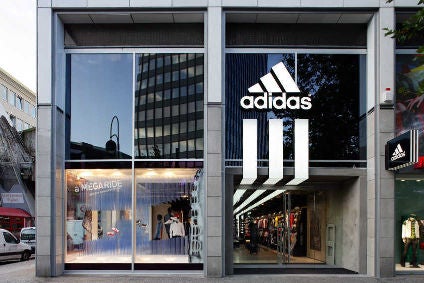 German sportswear giant Adidas says lower sourcing costs contributed to a double-digit jump in first quarter profit, with a "successful start to the year" also boosted by higher sales in strategic growth areas Greater China and e-commerce.
Net income from continuing operations in the three months to 31 March jumped 16% to EUR631m (US$703.8m) from $542m in the year-ago period, while the company's gross margin increased 2.5 percentage points to 53.6%, compared to 51.1% last year. The expansion was driven by lower sourcing costs, favourable currency developments, and a better product and channel mix.
The latest set of results also saw group revenues climb 6% in euro terms to EUR5.88bn – a currency-neutral rise of 4% – reflecting a 5% rise at the Adidas brand that was driven by increases in both Sport Inspired and Sport Performance. The latter was driven by high-single-digit growth in the training and running categories, partially offset by tough comparisons in football due to the non-recurrence of last year's World Cup-related sales.
Revenues at the Reebok brand, however, fell 6%, despite growth in Classics; while e-commerce showed strong growth once again with an increase of 40%.
The top-line expansion in the first quarter was driven by sales increases in most market segments. The combined currency-neutral sales of the Adidas and Reebok brands expanded at double-digit rates in Russia/CIS (+22%), AsiaPacific (+12%) – driven by overproportionate growth in Greater China (+16%) – and Emerging Markets (+10%). While revenues in North America increased 3% driven by a 5% increase at brand Adidas, sales in Latin America were down 3%. Revenues in Europe, in line with expectations, also declined 3% during the quarter.
"We had a successful start to the year, delivering double-digit sales increases in our strategic growth areas Greater China and e-commerce as well as another strong profitability improvement," said CEO Kasper Rorsted. "We confirm our full-year outlook and remain confident about the top-line acceleration in the second half of the year. 2019 will be an important milestone toward achieving our 2020 targets."
For 2019, Adidas continues to expect sales to increase at a rate of between 5% and 8% on a currency-neutral basis.
As announced in March, the company is experiencing a strong increase in demand for mid-priced apparel, which it has been struggling to fulfil due to supply chain shortages. As a result, Adidas continues to expect sales growth of between 3% and 4% in the first half of 2019, followed by a sequential acceleration during the second half of the year.
Meanwhile, net income from continuing operations is projected to increase to between EUR1.88bn and EUR1.95bn, reflecting an increase of between 10% and 14% compared to the prior year's EUR1.71bn.