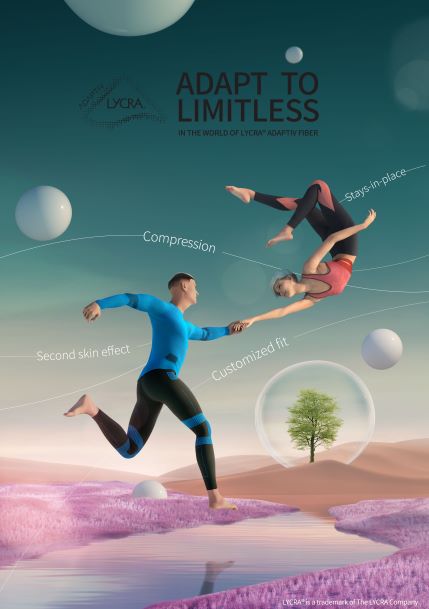 Lycra Adaptiv fibre is made from a revolutionary polymer and unique chemistry that allows it to adjust to a wearer's functional needs in a hybrid manner, the company says.
This means that when the wearer is at rest, the polymer adapts its compressive holding force to deliver the right fit, shape and control. And when the wearer is in motion, the polymer adapts its elasticity to deliver improved comfort in motion and a second-skin effect allowing the garment to stay in place better.
Garments made with fabrics containing Lycra Adaptiv fibre are also durable and said to be easier to put on and take off.
"Consumers are seeking garments that offer greater versatility – from work to leisure to social, and also from season to season and year to year," says Steve Stewart, chief brand and innovation officer at The Lycra Company. "They want garments that can adapt to their individual needs and lifestyle as well as ones that can adapt to their unique body type, even when their body size or shape may change or fluctuate. Lycra Adaptiv fibre is the answer to satisfy all of these consumer needs."
The Lycra Company conducted internal studies to assess wear performance by comparing fabrics and garments containing Lycra Adaptiv fibre versus the same fabrics and garments containing only generic spandex.
Results showed several advantages including comfort-in-motion and second skin performance accompanied by shape retention and greater freedom of movement with a comfortable hold.
Size inclusivity is also a key benefit in that Lycra Adaptiv fibre promotes one-size-fits-more. The softer stretch within the wearing zone allows for a widened fit window that covers a broader range of body shapes within a given size. This makes the one-size-fits-more approach, and the potential reduction of SKUs, a practical possibility.
"Size inclusivity is not a buzzword – it is increasingly important to today's consumers," says Deana Stankowski, strategic marketing director for active, intimates, and swim at The Lycra Company. "Every consumer's body is unique and they want clothes they feel were designed for them – clothes that increase their personal comfort as well as their confidence level. Size alone is an inadequate indication of body type and body shape. Therefore, traditionally-sized garments may not fit every consumer within that size. That's what makes Lycra Adaptiv fibre so revolutionary – it allows garments made with this fibre to adapt to many body shapes within a size range."
Lycra Adaptiv will launch in the Asia-Pacific region at The Lycra Company's pavilion at Intertextile Shanghai, taking place 9-11 October, and in North America to the denim industry via exclusive, invite-only virtual meetings being held on 21-22 September.