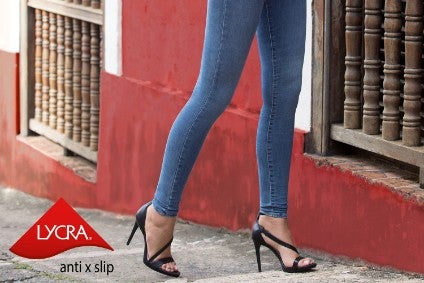 Performance fibre specialist The Lycra Company will show its latest denim innovation featuring anti-slip fibre at the upcoming Kingpins24 Flash online event.
Lycra Anti-Slip fibre is a denim seam slippage solution for applications in single-core spandex fabrics that require durable stretch and good recovery power, helping jeans maintain their fit, shape and appearance wash after wash and wear after wear.
Using this fibre in the core of Lycra dualFX technology yarn further enhances anti-slippage performance. Combining Lycra Anti-Slip fibre and Lycra T400 fibre, meanwhile, delivers the high stretch of Lycra fibre with exceptional anti-slippage properties and the recovery power of Lycra T400 fibre.
"Seam slippage is one of the biggest problems in the denim industry, with its impact felt through the entire value chain and across all price points – from fabric mills, to garment makers, to brands and retailers, and ultimately to consumers," said Melissa Stewart, global technology director for R&D and materials innovation.
Stewart and Jean Hegedus, director of sustainable business development, will provide updated performance data and sustainability certifications for this patent-pending fibre that was developed as a market back solution at the upcoming Kingpins show.
Kingpins has transitioned its denim trade shows to an online format amid Covid-19 concerns. Kingpins24 Flash, which will be held from 11am until 1:45pm EST on 23-24 February, will focus on denim innovation and technology via a combination of on-demand and live-streamed content including product demos, panel discussions, trend insights, factory tours and interviews.
Sessions planned for the event include: the next steps in circularity; partnership towards closing the loop; Made in the USA – denim's domestic revival; catalysing innovation; and water use.
The full programme can be found here.