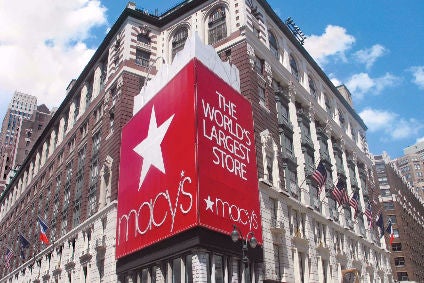 As part of its efforts to boost profitability, US department store retailer Macy's Inc has outlined plans to reduce its upper management structure, in a move it says will allow better investment in areas such as improving supply chain efficiency and enhancing inventory management.
The strategy marks the initial step in Macy's North Star strategy, which was launched in early 2017 to help return the company to growth.
The programme aims to grow the group's profitability rate by improving productivity across the enterprise. It includes initiatives to improve margin through enhanced inventory planning and operations, supply chain efficiencies, pricing optimisation, improved private brand sourcing, and customer acquisition and retention strategies.
Now, as an initial step, Macy's has announced a restructuring that reduces what it called "the complexity" of its upper management structure to increase the speed of decision making, reduce costs and respond to changing customer expectations.
Importantly, the move also allows the company to put additional resources behind three focus areas:
Improving supply chain efficiency;
Innovating and enhancing inventory management;
and Building a larger and healthier customer base.
In addition to the expected 2019 savings, the company anticipates that these activities will fuel the productivity plan over the next three to five years and contribute "significantly" to profitable growth.
Macy's said beginning in 2019, it expects the restructuring actions to generate annual expense savings of US$100m.
In addition, the retailer said it is to add two new areas of focus to its existing strategic initiatives. As part of its 'mobile first' strategy, it plans to enhance its mobile app with new features and functions to deliver "outsized growth" in mobile sales, while it has said it will invest in areas where the company already has strong market share to drive disproportionate growth. These categories include dresses, men's tailored, and women's shoes.
In the group's fourth-quarter and full-year earnings release today (27 February), CEO Jeff Gennette hailed the retailer's North Star Strategy and said Macy's is heading into 2019 a stronger business than it was a year ago.
"The steps we are announcing to further streamline our management structure will allow us to move faster, reduce costs and be more responsive to changing customer expectations," he added. "Importantly, these changes build the foundation we need to achieve meaningful enterprise productivity improvements. These actions impact colleagues who have made strong contributions to the company over the years, and I thank them for their service."
Macy's reported what Gennette called lower than expected fourth-quarter results with net income slipping to $740m from to $1.35bn in the year-ago period. Net sales, meanwhile, fell to $8.46bn from $8.67bn last year, while comparable sales for the quarter edged up 0.4%.