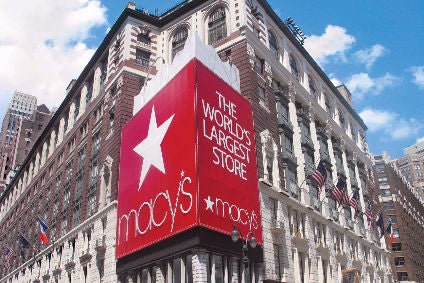 US department store retailer Macy's, Inc is to close about 125 of its least productive stores and slash 9% of its corporate and support function headcount – roughly 2,000 positions – as part of an updated strategy and three-year plan.
The Polaris Strategy, which the business says is designed to stabilise profitability and position it for growth, will also lead to further reshaping of the Macy's supply chain and includes plans to build four US$1bn "power" private brands.
In addition, it will see the company establish a single corporate headquarters, with the digital business relocating to New York City from San Francisco.
Beginning in 2020, Macy's expects Polaris to generate annual gross savings of about $1.5bn, which will be fully realised by the end of 2022. For 2020, it expects gross savings of about $600m, some of which it says will flow to the bottom line in order to stabilise operating margin.
Total costs related to Polaris are forecast to range between $450m-$490m, the majority of which will be recorded in 2019.
"We have a clear vision of where Macy's, Inc and our brands, Macy's, Bloomingdale's and Bluemercury, fit into retail today. We are confident in our Polaris strategy, and we have the resources required to return Macy's, Inc to sustainable, profitable growth," says CEO Jeff Gennette.
"We will focus our resources on the healthy parts of our business, directly address the unhealthy parts of the business and explore new revenue streams. Over the past three years, we have shown we can grow the top-line; however, we have significant work to do to improve the bottom-line. We are confident the strategy we are announcing today will allow us to stabilise margin in 2020 and set the foundation for sustainable, profitable growth."
The Polaris strategy comprises of five major components:
Strengthen customer relationships
Curate quality fashion
Accelerate digital growth
Optimise store portfolio
Reset cost base
As part of its effort to offer "quality fashion" amid its merchandising strategy, Macy's says it is committed to a more focused approach to its higher-margin private brands business with plans to build four $1bn brands.
While it did not provide any additional details regarding these new brands, the department store retailer did provide an insight into its supply chain with plans to implement a new private brand sourcing strategy that is expected to reduce costs and improve speed.
In addition, Macy's is redesigning its fulfillment network, which is expected to improve inventory productivity through increased sell-throughs and lower markdown rates.
Store closures & staffing
Meanwhile, as a result of a "rigorous evaluation" of its store portfolio, Macy's will close about 125 of its least productive stores over the next three years, including about 30 stores that are in the process of closure now. The company says the 125 stores currently account for about $1.4bn in annual sales.
Across the remaining store fleet, it is adjusting its staffing with reductions in some stores and increases in others.
It will also upgrade an additional 100 stores in 2020 as part of its "growth treatment", which includes improvements to the physical store, as well as investments in merchandising strategies, technology improvements, talent, and local marketing.
In addition, the company is testing a new store format, Market by Macy's, which is smaller than an average Macy's store and will be located off-mall in what the retailer calls "lifestyle centres."
Market by Macy's will feature a mix of curated Macy's merchandise and local goods, as well as local food and beverage options and a community events calendar, the business says. The first Market by Macy's will open in Dallas tomorrow (6 February).
Meanwhile, the macys.com headquarters will relocate from San Francisco to New York City in a move the company says grants better access to its brand partners. It will also expand its presence in the Atlanta area, which will serve as the primary technology hub for the company.
The move will see New York City become the company's sole corporate headquarters with it closing its San Francisco, downtown Cincinnati and Lorain, Ohio, offices.
Meanwhile, Macy's has announced it is "streamlining" its organisation with a net reduction in its corporate and support function headcount of 9%, or about 2,000 positions.
The company has also made several changes to its senior management team.
John Harper, formerly chief stores officer, has assumed the role of COO with expanded responsibility for stores, technology, supply chain, and brand experience. Marc Mastronardi is now chief stores officer, reporting to Harper, while Danielle Kirgan, chief human resources officer, is taking on an expanded role as chief transformation and human resources officer. She will lead the company's transformation work.
Preliminary results & guidance
Along with outlining Polaris, Macy's has reported preliminary sales results for the fourth quarter and full-year and provided guidance for fiscal 2020.
Net sales are expected to amount to $8.3bn in the final fiscal quarter and $24.5bn for the 12 months. Comparable sales are tipped to be down by 0.6% and 0.8% on an owned basis, respectively. On an owned plus license basis, comparable sales are expected to fall by 0.5% for the quarter and by 0.7% on an annual basis.
Additionally, the company anticipates its full-year 2019 earnings per share to be near the upper end of the previously guided range.
For the year ahead, Macy's says 2020 will be a "transition year" as the company makes significant structural changes to its operations. The company anticipates negative comparable sales in 2020 due to the trajectory of the business over the past six months, anticipation of continued challenges in mall-based retail and disruption from the implementation of the Polaris strategy. It also anticipates net sales to decline due to store closures.
Specifically, net sales for fiscal 2020 are expected to range between $23.6bn-$23.9bn. Comparable sales on an owned plus licensed basis are forecast to be down between 2.5% and 1.5%, while on an owned basis, comp sales are tipped to be about 40 basis points better. Adjusted diluted earnings per share, meanwhile, are forecast at $2.45 to $2.65.
Macy's is scheduled to report fourth-quarter sales and earnings on 25 February.
The company reported a drop in both earnings and revenue for the third quarter with net income tumbling to $2m from $62m in the prior-year period. Net sales fell to $5.17bn from $5.40bn last year, while the retailer reported a comparable sales drop of 3.9% on an owned basis and 3.5% on an owned plus licensed basis.