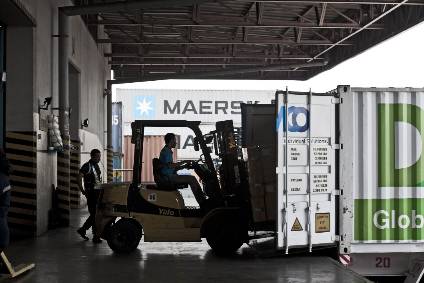 The acquisition of HUUB is the third this year by Maersk within e-commerce logistics and comes through its venture activities with Maersk Growth. It also marks its first tech acquisition.
Maersk says the move will strengthen its technology capabilities, adding once HUUB's technology is embedded into its existing solutions, customers will get fully integrated Maersk e-commerce logistics products with modern user-friendly customer and partner interfaces. It will also provide Maersk customers will have a single source of truth for stock visibility.
HUUB is working to "revolutionise the backstage of the fashion industry", noting on its website it aims to create an optimised supply chain for all fashion brands, with a special focus on e-commerce.
Vincent Clerc, executive vice president and CEO of ocean and logistics at AP Moller Maersk, says the start-up is a great fit for Maersk.
"With HUUB we are acquiring world-class capabilities and talent that will allow us to greatly accelerate the development of our omni-channel offering. This will make it much easier for our customers to focus on their core business of producing and selling goods and swiftly bringing them to the end-consumers," he explains.
Maersk Growth, the corporate venture arm of AP Moller Maersk, first engaged with HUUB in May 2019. With the acquisition by Maersk, Maersk Growth as well as the rest of the investors are exiting the company.
Maersk embarked on a merger and acquisition journey two-and-a-half years ago to strengthen its integrated logistics offering, first acquiring Vandegrift, a custom broker, Performance Team, a warehousing and distribution specialist, and finally KGH, a customs services.
Last month, Maersk expanded its e-commerce footprint by announcing the acquisition of Visible SCM and its intention to acquire Europe B2C.
The company says HUUB is the third acquisition within e-commerce logistics, underlining its strategic focus on delivering integrated logistics to customers.
"Since day one, HUUB has had two main purposes: disruption and scale. Disruption to have the capacity – and courage – to say that a multi-billion dollar industry needs a digital revolution and to envision and create a revolutionary supply chain platform and ecosystem," says Tiago Paiva, HUUB CEO. "In addition, there is the scale that allows disruption to occur, feeding it with the volumes that can make a difference. For HUUB, this joint path that now starts with Maersk represents both. Firstly, the validation of our disruptive vision and product. And secondly, Maersk is the scale enabler that will allow our platform to serve customers and lead the e-commerce logistics market."