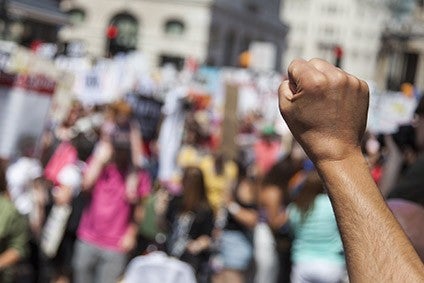 A number of factories producing garments for several major apparel brands have been accused of exploiting the coronavirus pandemic as an opportunity to sack workers affiliated to unions.
The 'Union busting & unfair dismissals: Garment workers during Covid-19 ' report from the Business & Human Rights Resource Centre (BHRRC) says more than 4,870 unionised garment workers have been targeted for dismissal by nine factories supplying for major fashion brands. The factories span India, Bangladesh, Cambodia and Myanmar.
Brands named include H&M, Primark, Inditex, Levi Strauss & Co, Mango, Bestseller, Michael Kors, Tory Burch and Kate Spade. Inditex has links to five of the factories, H&M has links to four, and Bestseller has links to two. Mango, Primark, Levi Strauss & Co, Michael Kors, Tory Burch and Kate Spade (Tapestry) all have links to one of the factories examined in these case studies.
Suppliers reportedly cited reduced orders and economic impacts of Covid-19 as the reason for dismissals while workers say they have been disproportionately targeted due to union membership and organising.
According to the report, in one case, workers were dismissed just hours after union representatives had requested factory management increase protections for workers against Covid-19 infection; and in another, workers were dismissed three days after registering a new union. In six of the cases, dismissed workers continue to call for reinstatement and have been without income for over two months. Discriminatory targeting of labour activists, dismissals, and blacklisting are among the most common reprisals garment workers face for speaking up about violations of their rights, and frequent tactics used by factory employers to stifle union organising and collective action by workers.
Among the cases the report cites:
An Indian supplier to H&M reportedly sacked 1,200 garment workers at a unionised factory in June, citing lack of orders amid Covid-19. The supplier's 20 other units remain open. Workers and unions claim the closed factory was the supplier's only one with unions and was targeted for this reason.
107 garment workers in Myanmar making clothes for Inditex, Bestseller and Primark, were sacked three days after they registered a new union.
Soy Sros was making handbags for Michael Kors, Tory Burch and Kate Spade in Cambodia when she was arrested and jailed for 55 days over a Facebook post criticising the factory's plans to sack union members, including a pregnant woman. All three brands failed to respond to the allegations. Sros faces ongoing criminal charges.
Three factories owned by the Windy Group in Bangladesh, which supplies Inditex and H&M, sacked 3,000 workers. The workers say the dismissals are linked to their union activism, and protests continue. In an email to just-style, a spokesperson for Windy Group confirmed it had "retrenched 3000 workers" due to the complete shutdown of its Saybolt Textile Ltd factory. Workers at its Tanaz Fashions and Windy Wet & Dry Process Ltd were made redundant due to insufficient orders. The latter two had no registered trade union and Windy says it has settled the payment for the workers at Windy Wet & Dry. For workers at the Tanaz Fashions unit, payments were settled through a tri-party agreement between the BGMEA, eight worker organisations and the factory management. Workers that were permanently "retrenched" it says, were ones that had been made redundant in line with "labour law" and dismisses the link between sackings and union activism and protests as "baseless and purported".
"Impediments to organising collectively are numerous, and the ability of workers to exercise these enabling rights are inextricable from the broader political context as well as the purchasing practices of lead brands that in turn have a direct impact on labour abuses," the report reads. "Freedom of association and collective bargaining are fundamental enabling rights – restriction of them has significant implications for garment workers' ability to improve their safety at work during a global pandemic and to ensure wages, benefits and severance are paid – critical for workers who are in a permanent state of financial insecurity due to a lack of living wages. There are mounting fears among unions that the industry will use the pandemic and reduced economic activity as an opportunity to reduce or even get rid of unionised workforces and intimidate workers from organising in the future.
"Our recommendations to brands urge for these core rights to be respected and protected both in policy and in practice, and for workers and unions to be placed at the centre of all strategies protect human rights in supply chains."
Thulsi Narayanasamy, senior labour rights lead at BHRRC, said: "Covid-19 has already been used as an excuse by fashion brands to act against the interests of the most vulnerable workers by cancelling orders and leaving suppliers in the lurch. Now workers face a brutal crackdown when exercising their most fundamental rights and brands aren't stepping up enough to ensure workers in their supply chains are protected.
"Workers in global supply chains are more vulnerable than ever as Covid-19 exacerbates existing inequalities and power dynamics. Threatening the right to organise collectively and be part of a trade union at such a critical time is akin to cutting garment workers off at the knees: It attacks a key source of collective power and effectively stops them from being able to ensure they are paid wages, are safe at work and free from harassment. These threats send a powerful message to other workers on the real cost of exercising their fundamental freedoms.
"Fashion brands are aware that this is happening, and they must step up and take responsibility for workers by ensuring that these cases are resolved swiftly and fairly, and by changing their own practices that enable union suppression in supply chains. Brands can do more than make policy commitments to rights and now is the time to ensure workers and unions are directly and meaningfully engaged and their voices taken seriously."
just-style reached out to the brands named to learn their thoughts on the report.
Brand responses
Bestseller:
"Bestseller has been aware of allegations of wrongful dismissal against the suppliers Huabo Times and Rui-Ning since the very early stages and has taken both cases very seriously. Together with other brands sourcing from these factories, Bestseller has taken an active role. Our local Responsible Sourcing team has conducted investigations into the respective cases, while we also initiated an investigation by a third-party that specialises in workers' rights in Myanmar. Bestseller has also actively contributed to the formulation of a collective brand position that was communicated to the factories, and our local colleagues have monitored subsequent dispute settlement processes. After a couple of rounds of negotiations, both factories have signed dispute resolution agreements with the relevant unions. We are closely monitoring the implementation of the dispute resolution agreements with the factories and local labour unions.
"For Bestseller, failure to respect workers' Freedom of Association rights is a zero-tolerance issue. Freedom of Association guidelines are included in Bestseller's Code of Conduct, which outlines the ethics and behaviour required from our suppliers. All our supply chain partners working in Myanmar have been notified multiple times that non-compliance with Bestseller's Code of Conduct will result in proportional business consequences.
"Bestseller has played a central role in the promotion and development of Freedom of Association guidelines in Myanmar, working with other international brands, local unions and employer representatives, as well as with support from ACT and ILO. As a member of ACT, Bestseller is currently playing an active role in the development of a dispute resolution mechanism under Freedom of Association guidelines in Myanmar."
Levi Strauss & Co
"Levi Strauss & Co has been working closely with our suppliers to protect workers' rights for decades. Our Terms of Engagement requires that suppliers respect a worker's right to freedom of association and collective bargaining. In this instance, we are aware of the circumstances and are in discussions with the supplier about the right way to manage this situation."
Primark
"Primark's Code of Conduct clearly states that all workers have the right to join or form trade unions of their own choosing and to bargain collectively. Primark takes any suggestion that our Code has been breached very seriously and will always investigate.
"In collaboration with other brands, Primark's investigation into code violation allegations at the Huabo Times factory, which included direct contact with the union in question, has resulted in constructive cooperation between all parties. As a result of this, an agreement has now been reached between the factory and the union which will see the reinstatement of the workers involved, with compensation in full for lost earnings.
"Our remediation plan also includes assurances from the factory that the standards in our Code will be strictly adhered to going forward, as this is a condition of doing business with us."
H&M
"We take any allegations of violations of freedom of association seriously and there is a clear need to continuously address these issues. Dismissing workers due to union activity is completely unacceptable and a serious violation of our Sustainability Commitment. As well-functioning industrial relations and a good workplace dialogue are fundamental for good working conditions, we stay committed to our work within that area in all our production countries. We are of course aware that garment workers are extremely vulnerable in this situation.
"In the cases you refer to, we are engaged in dialogue with all parties involved, including suppliers and trade unions. As always, we work to facilitate a dialogue between the parties to help them resolve the conflict peacefully and reach an agreement that is acceptable to both parties.
"When it comes to one of the suppliers mentioned (Windy), a tripartite agreement has already been reached between trade unions, the employer association BGMEA and the government. At the other unit belonging to the same supplier, an agreement was reached between the local trade union and the factory management. The other cases are still ongoing."
Inditex
"Respect for freedom of association is a key principle of Inditex's Code of Conduct. Inditex expressly outlaws discrimination against workers' representatives and union members. We have worked closely with our suppliers throughout this difficult period and we expect continued compliance with our Code of Conduct, which clearly requires fair treatment of workers and no discrimination against workers' representatives.
"As the BHRRC points out, in each dispute where we are a customer of the factory concerned, we have engaged with owners and workers representatives to drive social dialogue towards a resolution, supported by IndustriALL Global Union with which we have a long standing framework agreement. Our role in mediation has played an important part in resolving a number of the cases highlighted by the BHRRC. Where issues arise, we continue to monitor and engage, working together with other brands, factory owners, workers representatives and all relevant stakeholders to work to achieve a resolution."
Mango
Did not return a request for comment when approached by just-style. However, the report states with regard to the Myan Mode factory in Myanmar, Mango indicated it had engaged in mediatory discussions with the factory and were pleased the dispute had been resolved. At the Rui-Ning factory in Myanmar, it had engaged with local unions and made inquiries with the factory.
Tapestry Inc did not return request for comment when approached by just-style. The group which owns the Kate Spade Brand also did not respond to the report's authors.
Tory Burch and Capri Holdings, which owns Michael Kors could not be reached for comment at time of press. They also did not respond to the report authors.