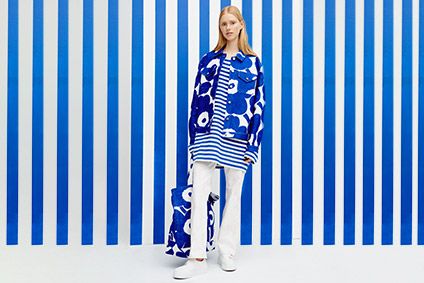 Finnish fibre company Spinnova has revealed the first printed clothing made from its wood-based fibre under a partnership with the Marimekko fashion group.
The two companies have been working together for the past two years to commercialise the wood pulp-based fibre spun using Spinnova's technology that eliminates the need for regenerating, dissolving or harmful chemicals.
The method is said to put less of a strain on the environment than viscose or cotton production, and consumes some 99% less water than cotton production. A fabric made with Spinnova fibre is also claimed to be fully circular post-consumer and biodegrades quickly.
Both the woven and the jersey fabric used in the Marimekko prototypes – a denim-like jacket, striped jersey shirt and a bag – were made of the Spinnova fibre, combined with cotton and/or lyocell, and feature Marimekko's signature Unikko print and stripes. The products were designed, printed and manufactured at the Marimekko House in Helsinki.
"Sustainability starts with design. At Marimekko, we believe that timeless and long-lasting design that brings joy to our customers for many years is also a sustainable choice," says Minna Kemell-Kutvonen, design and product development director of prints and home products at Marimekko. "The work to maximise a product's life cycle and make it as sustainable as possible begins on the designer's drawing board and material choices play an important role in this."