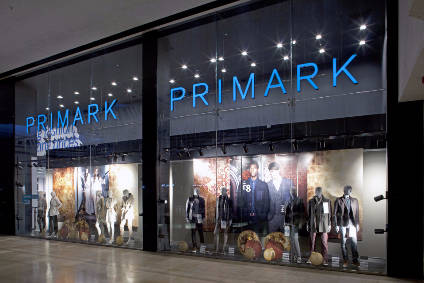 Primark-owner Associated British Foods (ABF) says the value fashion retailer has begun placing "substantial" orders for autumn/winter stock and will seek to avoid markdowns on excess inventory as it prepares to reopen stores in England on 15 June.
In an impromptu update today (1 June), ABF says at the start of the re-opening process, which began in Austria on 4 May, Primark had GBP1.5bn of stock on hand and had also made a commitment to its suppliers for a further GBP0.4bn of inventory.
This compares to a typical stockholding of GBP0.9bn and is due to having taken possession of all finished goods in transit at the time of the store closures, in addition to a commitment to take all products that were planned for handover by 17 April.
"Our sourcing team has recognised the impact that Covid-19 and the subsequent reduction in orders has had on the garment supply industry and its employees. The team has maintained frequent and direct contact with each of our suppliers," ABF says. "We recently established a fund to ensure that the labour element of certain product finished and in production for Primark in the most vulnerable countries was paid to those workers. To date, we have made initial payments, totalling some GBP10m."
It adds Primark is now placing "substantial" orders for autumn/winter seasonal stock with its suppliers and notes the excess stock on hand mainly comprises everyday continuity and some excess spring/summer stock which can be sold in the normal course of business, albeit at a later date and without the need for special discounting beyond normal practices.
In addition, some spring/summer inventory will be held in storage for sale next year.
"ABF remains well positioned to fund and manage the increased working capital. We will continue our policy of offering the best everyday low prices and will seek to avoid any markdown on excess stock," the company says.
As a result of the rapid spread of Covid-19, all Primark stores were closed over a 12-day period from 11 March. The move has resulted in a loss of sales of approximately GBP650m for every month that all stores were closed.
ABF says it took a number of actions at Primark to substantially reduce the cash outflow resulting from this loss of sales, adding in April and May, the business exceeded its estimate of a 50% reduction in Primark overheads.
As of today, Primark is trading in 112 stores, which represent 34% of its total selling space, and is working to re-open all its stores in England on 15 June, following the recent announcement by the UK Government. At that date, Primark expects to be operating from 281 stores representing 79% of total selling space.
ABF says trading in locations that have already reopened in Europe has been both "reassuring and encouraging" with consumers spending on larger basket sizes.
The group's initial view is that the implementation of social distancing could only affect sales to some extent in the higher density stores, which represent 10-20% of pre-Covid-19 total Primark sales.
What the analysts say
Clive Black, analyst at Shore Capital, says ABF's impromptu trading statement is better than management's initial cautious expectations as to the potential disruption upon the business, set out at its interim results.
He welcomes ABF's surpassing of a 50% reduction in Primark overheads, noting: "Put another way, the GBP100m of cash burn that management anticipated for June if there had been full closure looks like it has been beaten, whilst wider cost reduction ahead of this new month looks like it has been exceeded, which we welcome."
In addition, Black says Shore Capital notes "with interest and encouragement" that new purchase commitments are anticipated for the forthcoming autumn/winter season and says, overall, the update will be a relief for ABF shareholders.
"The group has always had a strong financial constitution and this update suggests sound liquidity and strong solvency to us. The easing of Primark's restrictions with trade returning at quite satisfactory initial levels, albeit is too early to really make sensible comment, but also the better than guided cost outcome, shows good and hard work by the team's involved, in our view."
He adds: "The key question to us for Primark from this recent experience is whether or not it leads to an adjustment in its online strategy; where partnerships maybe be a worthwhile move, especially if full and partial lockdowns are part of future life; Primark's store only model in this respect has been a strategic challenge."