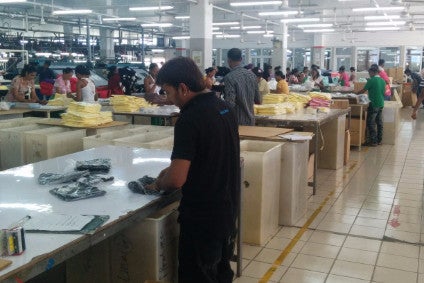 A government minister has urged the textile and apparel manufacturing industry in Mauritius to embrace advanced Industry 4.0 technology if it is to emerge from the Covid-19 pandemic successfully, after being brought to its knees by the outbreak.
Speaking at a meeting at the SME Mauritius Coromandel Branch Office on Tuesday (2 June), the minister of industrial development for SMEs and cooperatives, Soomilduth Bholah, said the sector must be "revamped by taking advantage of intelligent networking".
He suggested robotics and 3D printing must be an integral part of the industry so as to evolve with modern and advanced technologies.
The aim of the meeting, held with prominent exporters in the textile and apparel manufacturing industry, was to adopt a collective and coordinated approach engaging all stakeholders to respond to "the resulting threats and to identify new opportunities to reorient the sector for sustained development" following the outbreak of the Covid-19 pandemic.
Bholah highlighted that Mauritius exports some MUR43bn (US$1.07bn) of product every year, out of which around MUR22bn accounts for textile and apparel exports. The industry, he stated, employs around 31,000 persons but is now "on its knees" following the Covid-19 pandemic.
However, some manufacturers are still receiving orders from the main markets of South Africa, the US and the UK, despite the lack of visibility of the sector for the forthcoming months, he added.
The minister urged exporters to reassure their clients that, despite the pandemic, all factories, employees and logistics are ready to relaunch textile and apparel production. He also underlined that a standing committee for the manufacturing sector, comprising his ministry, the Mauritius Export Association and the Economic Development Board, holds a meeting on a monthly basis to take stock of the situation and work on the recovery of the sector and suitable marketing strategies.
Some exporters, however, expressed concern regarding the freight system due to the lack of flights over the past two months and informed the minister that, despite government help through the Wage Assistance Scheme, some are still experiencing financial problems.
Mauritius is hopeful that a trade deal will be struck with India this year. Negotiations on forging the India-Mauritius Comprehensive Economic Cooperation and Partnership Agreement (CECPA) have been staged off and on since 2005. The latest round of negotiations, which finished on 1 January, were tantalisingly close to finalising the deal. Yet Mauritian government officials told just-style that the date for a last session of talks to tie up the deal was still under discussion.
Mauritius has also signed a free trade agreement with China, its second-biggest supplier.
The latest Mauritius three-year strategy to 2021 outlines plans to reduce the island nation's dependence on Europe and accelerate a market diversification strategy, with greater penetration in ASEAN (Association of South East Asian Nations) markets as well as Africa, Gulf, and Nordic countries.