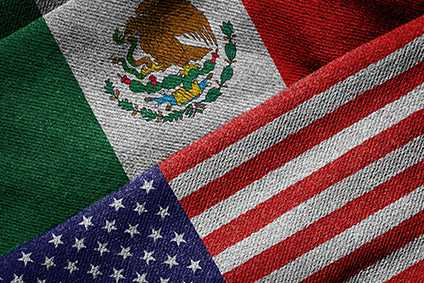 Mexico is poised for a complete overhaul of its labour relations after the Mexican Senate approved a new labour bill that is also a key step towards ratification of the United States-Mexico-Canada Agreement (USMCA).
Mexico's House of Deputies passed the reform on 11 April, the bill was approved by the Senate on 29 April, and signed by Mexican President Andres Manuel Lopez Obrador on 1 May.
United States Trade Representative (USTR) Robert Lighthizer said the reforms "will greatly improve Mexico's system of labour justice and are exactly what labour leaders in the United States and Mexico have sought for decades.
"As we move forward with the ratification of USMCA, the Trump Administration will work closely with members of the United States Congress and the Mexican government to ensure these reforms are implemented and enforced."
Negotiated to replace the 25-year old North America Free Trade Agreement (NAFTA), USMCA was officially signed off in December following almost two years of deliberations. The move came after Canada, the United States, and Mexico successfully concluded more than a year's worth of talks in September, finally agreeing on a new agreement to revamp NAFTA. However, to come into force the pact must still be ratified by all signatories.
Strong labour commitments are a key component in the USMCA, and Mexico's reforms represent a complete overhaul of labour relations. They will give workers better access to labour justice and greater freedom of association, as well as make it easier for them to form democratic unions.
Under the reforms, workers will be free to choose which union to join and will be able to elect their union leaders through an individual, free, secret and direct ballot. For many years, when elections did take place, the vote was by show of hands, according to the IndustriAll Global Union.
"This meant that workers were often forced to vote in front of corrupt, pro-employer unions that had their henchmen at the ready. This put a lot of pressure on workers and prevented them from freely electing their leaders," the union says.
Now, workers will have to be consulted both when the collective agreements are drafted and during the re-negotiations that will take place every two years. This will also involve an individual, free and secret ballot, which will help to eliminate the so-called employer protection contracts.
In addition, a federal office for conciliation and union registration will be created, tasked with keeping a national register of all collective agreements and all trade unions.
IndustriAll welcomed the news but warned the new legislation does not cover key issues such as outsourcing, which is especially problematic for workers and their rights.
According to Napoleón Gómez Urrutia, Mexican Senator, leader of IndustriAll affiliate Los Mineros, and IndustriAll regional co-chair, the Senate intends to review these outstanding issues in consultation with business and union leaders, lawyers and other experts.
"We would like to stress to our affiliates throughout the world that this is a huge opportunity to bring democracy to the union movement in Mexico. With this reform, it will be practically impossible to set up employer protection agreements, as all collective agreements will have to be voted on by workers," added IndustriAll global union's general secretary, Valter Sanches.