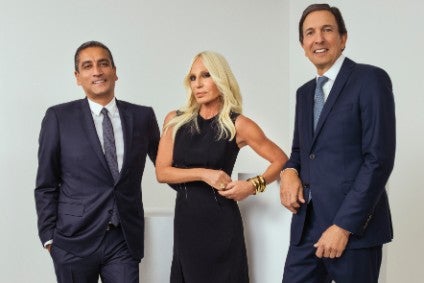 Michael Kors has confirmed it is to acquire Italian luxury fashion house Versace for US$2.12bn in a move that is expected to help grow group revenues to US$8bn and will see the group change its name to Capri Holdings Limited.
In a statement today (25 September), Michael Kors Holdings Limited – which describes itself as "a global fashion luxury group" – said it has inked a definitive agreement to acquire all of the outstanding shares of Italian luxury fashion house Gianni Versace S.p.A. for a total enterprise value of EUR1.83bn or $2.12bn.
The move, which was rumoured yesterday, will see Donatella Versace, who doubles as artistic director and vice-president of Versace, continue to lead the company's creative vision and become a shareholder in Capri Holdings Limited, alongside her brother Santo and daughter Allegra.
Meanwhile, Versace's management team will continue to be led by CEO Jonathan Akeroyd.
"The acquisition of Versace is an important milestone for our group," says John Idol, chairman and CEO of Michael Kors Holdings Limited. "For over 40 years, Versace has represented the epitome of Italian fashion luxury, a testament to the brand's timeless heritage. We are excited to have Versace as part of our family of luxury brands, and we are committed to investing in its growth.
"With the full resources of our group, we believe that Versace will grow to over $2bn in revenues. We believe that the strength of the Michael Kors and Jimmy Choo brands, and the acquisition of Versace, position us to deliver multiple years of revenue and earnings growth."
Donatella Versace adds the acquisition is the next step which will allow Versace to reach its full potential.
"We believe that being part of this group is essential to Versace's long-term success. My passion has never been stronger. This is the perfect time for our company, which puts creativity and innovation at the core of all of its actions, to grow," she says.
Strategic initiatives
Looking ahead, as part of its strategic plan for the long-term growth of Versace, Michael Kors says it intends to execute on a number of key initiatives.
Alongside growing Versace to $2bn in revenues globally, these include increasing the business' global retail footprint from about 200 to 300 stores; accelerating its e-commerce and omni-channel development; and expanding men's and women's accessories and footwear from 35% to 60% of revenues.
In addition, Michael Kors says the acquisition is expected to deliver a number of benefits for the company, including the opportunity to help grow group revenues to $8bn in the long-term.
Other benefits include expanding its global luxury group to include what it calls "three iconic founder-led brands defined by fashion luxury products with a reputation for world-class design and innovation"; and plans to diversify its geographic portfolio from 66% Americas to 57% Americas, 23% Europe to 24% Europe, and 11% Asia to 19% Asia.
The transaction, which is not subject to a financing condition, is expected to close in the company's fourth fiscal quarter and is forecast to be dilutive to earnings per share in the high-single digits in fiscal 2020, accretive in the low-single digits in fiscal 2021, and accretive in the high-single digits in fiscal 2022.
Upon the closing, Capri Holdings Limited is the new name to be adopted by Michael Kors Holdings Limited – a moniker it says is inspired by the "fabled island", which has long been recognised as an iconic, glamorous and luxury destination.
"The island's spectacular three rock formation, formed over 200m years ago, is symbolic of the timeless heritage and strong foundation that is at the core of each of the three founder-led brands in our global fashion luxury group," it adds.
What the analysts say
Neil Saunders, managing director of GlobalData Retail, notes in the firm's view, there are a number of favorable points.
First, of which is that Donatella Versace will stay on as creative director. Good news, Saunders says, as is the fact her family will become shareholders in the newly enlarged business.
"As much as we maintain some repositioning of the brand is needed, Ms Versace has been instrumental in acting as both the face of the label and the heart and mind behind many of its creative successes," he says. "Her vast experience in luxury retail will be extremely valuable to the new group, especially as it ramps up international expansion."
Meanwhile, Saunders notes the name change to Capri Holdings is "sensible" and reflects the much wider interests of the group. "It follows the example of Coach which changed its corporate name to Tapestry following the acquisition of Kate Spade," he adds, noting "it's a subtle change, and one many consumers may not notice, but in our mind, it underlines the intention of the group to become a luxury powerhouse."
Third, the deal helps transform the business into one with a better international reach, especially in Europe and in Asia, Sanders says, adding ultimately, this will help all brands in the stable to grow their international footprint, especially as operational activities come together.
Fourth, is the clear intent to grow the Versace business through both stores and online. "Over recent years, Michael Kors has done a good job of developing new store concepts that have resonated with shoppers. We believe that this expertise can be put to good use in the Versace business," he adds.
However, despite all of these points, GlobalData maintains its view that Versace is not a perfect operation.
Saunders adds: "While it is iconic and high-profile, there is a lot of work to be done to position it for higher growth. This will absorb both time and money from the group and has to be done in tandem with the ongoing efforts to put Michael Kors firmly on the right track. It is notable that synergy savings are not a core part of the announcement today, which is perhaps a recognition of the fact that spending will be needed to create superior growth.
"Ultimately, for the deal to be a success this has to be more than additive. Capri Holdings now needs to find a way of leveraging all of its brand assets to make the business worth more than just the sum of its individual parts."