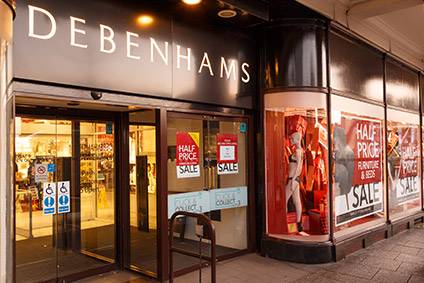 Sports Direct boss and retail tycoon Mike Ashley has launched a coup at Debenhams that would see him appointed as an executive of the struggling British department store chain and oust the vast majority of its current directors.
In a stock market announcement last night (7 March), Ashley, who is understood to be Debenhams' largest shareholder with a 30% holding, called for a general meeting of the retailer to appoint him to the board and to remove all of the current members, other than chief financial officer Rachel Osborne.
"If Mr Ashley were to be appointed to the board of directors of Debenhams during this business-critical period for Debenhams, Mr Ashley would carry out an executive role, and would focus on the Debenhams business, including building a strong board and management team," Sports Direct said in the statement.
If appointed, Ashley has pledged to step down as a director and chief executive of UK high street sportswear chain Sports Direct. He would be replaced by deputy chief financial officer Chris Wootton.
Sports Direct added a fuller statement in relation to its reasons for the requisitioning of a meeting of Debenhams and the proposed appointment of Ashley will follow in due course.
In response this morning, Debenhams acknowledged Sports Direct's statement.
"The board has been engaging with Sports Direct and our other stakeholders regarding options to restructure our balance sheet and is disappointed that Sports Direct has taken this action," the retailer said. "In the meantime, discussions to address our future funding requirements are well advanced."
The news follows the resignation of Sir Ian Cheshire as chairman of Debenhams in January after of the retailer's major shareholders – one of which was Ashley – voted against his re-election to the board at the company's AGM. CEO Sergio Bucher also initially failed to be re-elected, principally as a result of the votes of the same two major shareholders, but received 44.5% of the votes cast on resolution, securing his re-election.
The move reignited the ongoing feud with Ashley who sent a strongly-worded letter to Bucher after he turned down an offer of a GBP40m (US$50.3m) interest-free loan a month previously.
The letter, which was addressed simply to "Sergio", said while the predictable negative response came as no surprise, Ashley is "really concerned" the board does not seem to appreciate the position Debenhams is in and its responsibility to shareholders.
Meanwhile, Debenhams issued a fresh profit warning earlier this week as sales continue to fall.
Shares in the British department store group were down by 3.5% on Tuesday (5 March) on the back of its latest trading update. Debenhams said its forecast made on 10 January – which stated the group was "on track to deliver current year profits in line with market expectations" – is no longer valid.