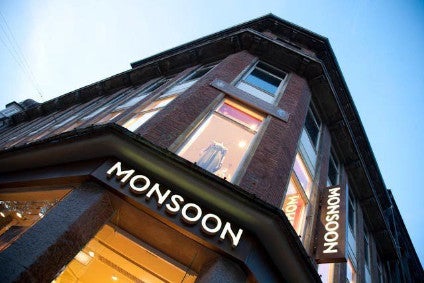 Monsoon Accessorize has been acquired out of administration by its owner Peter Simon, a move intended to save as many as 4,500 jobs in its supply chain, but 35 stores will permanently close as part of the pre-pack deal.
Simon bought the business under a new holding company Adena Brands. The stores fell into administration last night (9 June) after the impact of Covid-19 and the subsequent lockdown and effects of the closure of all 230 shops since mid-March made the businesses unviable.
Following a sale process instigated by FRP Advisory, the administrator, Adena has acquired both businesses to ensure they continue to trade. The terms of the deal include a cash injection of up to GBP15m (US$19.2m) by Peter Simon, in addition to the GBP12m he invested in the business at the time of its successful Creditors' Voluntary Arrangement (CVA) last year.
The acquisition encompasses the Monsoon and Accessorize brands and intellectual property, the head office and design teams, and the group's distribution centre in Wellingborough, Northamptonshire. In all, the deal secures up to 2,300 jobs while both Monsoon's and Accessorize's online operations will continue to serve customers without a pause.
Adena Brands will now enter talks with the landlords of many of Monsoon and Accessorize's stores to see if they can reach terms to reopen them when the current lockdown ends to secure further jobs. Ultimately the new group hopes to be able to save as many as 100 stores.
According to FRP, 545 staff were made redundant as a result of the 35-store closure.
Simon said: "This deal secures the future of both Monsoon and Accessorize and means we can continue to serve our customers online without a pause. In addition, we will now try to save as many of our stores as possible, depending on the outcome of various discussions with landlords. I would like to thank landlords for the helpfulness and enormous forbearance they have shown so far, which has enabled us to get to this point.
"Ultimately, we hope to be able to save as many as 2,300 jobs in this process, and more than 4,500 in our supply chain, although unfortunately not all of them. We believe that fashion has a future on the high street, and we are prepared to commit time and money making it work.
"Monsoon and Accessorize will both emerge smaller and stronger after this but essentially the same – with our unique design flair and commitment to environmental standards and ethical trading intact. I am looking forward to working with everyone to overcome this crisis and make the next chapter in our history a success."
"Shoppers unlikely to rush back to Monsoon"
Sofie Willmott, lead retail analyst leading data and analytics company GlobalData, notes like many other clothing specialists, Monsoon Accessorize's store portfolio has been a "costly burden" that its pre-pack administration will enable it to slim down, allowing it to become a more agile retailer with a greater focus on online.
"Following recent store closure announcements from Debenhams, along with Laura Ashley and Oasis and Warehouse, the news will be another blow to retail landlords who have found their properties plummeting in appeal (and value) in recent months," she says.
"Monsoon Accessorize was one of numerous retailers looking unsteady on its feet prior to the Covid-19 pandemic, with its CVA launched in July 2019 not enough on its own to secure the long term future of the business. Clothing and footwear is set to be the worst-hit retail sector by the crisis with spend forecast to fall over 30% this year and Monsoon's focus on occasionwear has left it particularly exposed to the slump in demand. A significant proportion of Monsoon's range is designed with weddings and other special occasions in mind and with social gatherings on hold for the time being, it is at a disadvantage and cannot leverage other categories like loungewear and activewear, as other clothing specialists have done."
She adds prior to the crisis, Monsoon was gradually becoming less relevant in the UK clothing and footwear market, with the brand lacking appeal and facing increased competition from emerging players such as Sosandar, Mint Velvet and Hush – making customer acquisition and driving loyalty a challenge.
"While store closures will reduce the retailer's costs marginally reducing the pressure on sales when branches can reopen from next week, Monsoon is unlikely to be a retailer that clothing shoppers rush back to. With social distancing set to remain throughout 2020, special occasions will be pushed back and Monsoon will struggle to encourage spend."