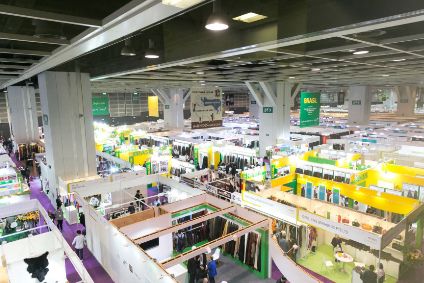 More textile trade fairs have been postponed over concerns surrounding the novel coronavirus outbreak, and its impact on the safety and travel plans of global buyers, visitors, and exhibitors.
The events that have been pushed back are mainly in Asia but also in the US. The decisions reflect requests by the Chinese government to cancel large-scale gatherings to try to limit the spread of the disease, as well as restrictions on mainland Chinese visitors – a core component at many trade fairs – from travelling to other countries.
In the US, next week's NW Materials Show, which specialises in materials and components for high performance footwear, has been rescheduled over virus fears. The event had been due to take place at the Oregon Convention Center, with more than 300 exhibitors.
Organiser American Events says: "We are committed to the safety of our clients and partners. We apologise for any inconvenience and will share updates once we are able to reschedule these events."
However, Première Vision Sport, which is staged alongside the Materials Show at the same venue, will go ahead. It showcases fabrics, components and designs for performance and active sports clothing, and is expected to attract some 2,500 visitors.
The US government has barred foreign nationals from entering the country within two weeks of visiting China, which means many Chinese participants are likely to be absent from this edition of the show.
"Despite the postponement of the NW Materials Show, and after very careful consideration, our decision has been to go ahead with our event, in the firm desire to support all the human and financial investments you have already put in place to promote your collections and further your business development," organisers say.
Messe Frankfurt earlier this week said its three textile fairs – Intertextile Shanghai Apparel Fabrics – Spring Edition, Yarn Expo Spring, and Intertextile Shanghai Home Textiles – Spring Edition – would be moved from March to a later date. The events had been due to be held in Shanghai from 11-13 March at the National Exhibition and Convention Center.
The Chinese edition of sports trade show Ispo – scheduled from 12-15 February 2020 at NCIEC Beijing has been cancelled "to protect the health and safety of our exhibitors and visitors, and the general public." The move is in line with the Beijing Municipal Government's cancellation of large-scale events.
Likewise, the Chic-China International Fashion Fair, originally scheduled for 11-13 March at the National Exhibition and Convention Center in Shanghai, has been postponed.
Another casualty is the first edition of the Denimsandjeans Japan show, which was scheduled to take place in Tokyo on 4-5 March and will now be rescheduled.
"The decision has been taken keeping in mind the safety and health concerns of all stakeholders, in view of the growing threat of coronavirus, which WHO has declared a global health emergency." Leading retailers and brands from the US, EU, and Southeast Asian countries were expected to attend.
Denimsandjeans founder Sandeep Agarwal says new dates will be announced "as soon as we feel exhibitors and visitors will be much more comfortable to attend."
Meanwhile, organisers of the APLF Leather, Materials+, Fashion Access events in Hong Kong continue "to closely monitor the developments of the novel coronavirus which first emerged from Wuhan, China in December 2019."
The events, originally scheduled for 31 March to 2 April 2020 at the Hong Kong Convention and Exhibition Centre, have now been postponed to 1-3 June 2020.