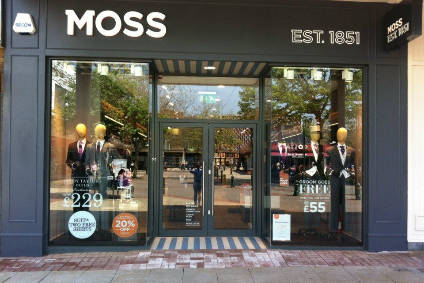 UK menswear retailer Moss Bross Group said it expects to report a full-year pre-tax loss as it booked a drop in sales in the first half of the year.
In a trading update for the 24 week period ended 11 January, the company forecast a full-year adjusted loss before tax of around GBP1m (US$1.3m).
Moss Bross has been implementing a strategy to transform the way in which it operates in its marketplace by investing in key strategic levers to try and drive long-term performance, and "elevating the brand" in the eyes of its customers.
Despite challenges, the company said it has made "good progress", underpinned by a strong balance sheet and "flexible store portfolio".
Retail trading gross margins for the period grew by around 300 basis points versus last year, as a result of a reduction in the level of clearance activity throughout the half, lower levels of promotional discounts and improved sourcing prices.
Total sales, however, were 3% below last year and down 3.2% on a like-for-like basis.
Total retail sales, including e-commerce and wholesale, comprised over 92% of group revenue and were 1.6% lower than last year and 1.8% lower on a like-for like-basis.
Online sales from our own website and other online marketplaces were down 0.4% on last year. Online comprised 17% of group revenue, up from 16.6% last year.
"Despite the delivery of progress against our strategic levers, we anticipate the year ahead will continue to be challenging until we see an improvement in consumer confidence and a stabilisation in footfall across UK shopping destinations combined with a re-alignment of occupancy costs to properly balance the costs and rewards of doing business in physical retail stores," said CEO Brian Brick.
Sofie Willmott, lead retail analyst at GlobalData, says that with 128 stores in its portfolio, and an average remaining lease length until the next break or expiry being 28 months, Moss Bros is in a better position than many multichannel retailers who will struggle to slim down their estate due to rigid lease agreements.
"The retailer is focused on optimising its portfolio and is likely to close stores over the coming years however it must ensure its online channel is in a better position to support the changing business model as it needs to be relied upon to drive top-line growth as its physical estate contracts."