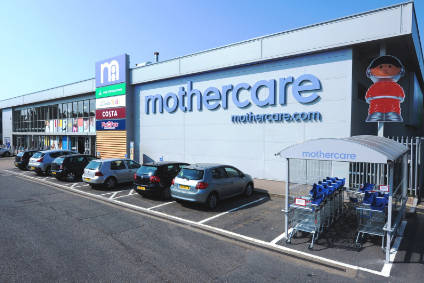 Mothercare saw its share price slump nearly 7% this morning (22 November) as the beleaguered UK retailer revealed mounting losses and lower UK sales, which it blamed on negative press coverage and refinancing.
The mother and baby retailer, which is in the process of closing more than a third of its stores as part of a company voluntary arrangement (CVA), said critical press coverage, moves to refinance the group, and a challenging retail environment weighed on domestic sales in the first half.
UK like-for-like sales were down 1.3%, reflecting a 14.3% drop in UK total sales to GBP196.2m (US$252.2m) and a 7.8% decline in online sales.
Total international sales were down 10.6% in the six months ended 6 October to GBP98.8m, and on a like-for-like basis sales losses narrowed to 3.4% from 8% last year thanks to growth in the retailer's key markets of Russia, China and Indonesia.
Total group sales, meanwhile, fell more than 13% to GBP295m, down from GBP339.5m in the prior year period. Total adjusted loss before tax widened to GBP6.2m from a loss of GBP2.6m last year.
Mothercare has been trying to save the business from entering insolvency, and in June announced plans to close 50 stores and rehire CEO Mark Newton-Jones under a new strategy aimed at securing the financial footing of the company. Four weeks later it announced a further ten locations would be shuttered and placed its Children's World subsidiary into administration. Investors also approved a move to raise an additional GBP32.5m through the placing of new shares.
Newton-Jones says the strategy for the group is to now focus on becoming "a stronger global brand, with improved product design, marketing and distribution of Mothercare products around the world".
"Our international business is showing signs of recovery after a difficult few years and some core markets, including Russia, China and Indonesia, have moved into growth," he said in the company's trading statement.
"The UK retail environment, however, remains very challenging and given the ongoing uncertainty with consumer confidence, alongside the short-term impacts of our operational changes and restructuring programme, we expect performance in the remainder of our financial year to remain volatile."
Despite this, Mothercare said it remains on-track with its transformation plan to deliver at least GBP19m of cost savings. Its UK store closure programme is also ahead of schedule, and it has commenced a number of product outsourcing initiatives.
Shore Capital analyst Clive Black believes funds from the capital restructuring undertaken by Mothercare are being put to good use, with the retailer's estate now materially pruned and more focus and balance emerging.
"We welcome these changes as they introduce better balance, focus and the potential for improved resource allocation and returns from within the group, in our view," Black noted, but warned: "Clearly a lot of activity still needs to be seen through, noting the challenging political economic backdrop in the UK, and an uncertain domestic consumer outlook in particular, Mothercare signals volatile trading patterns"