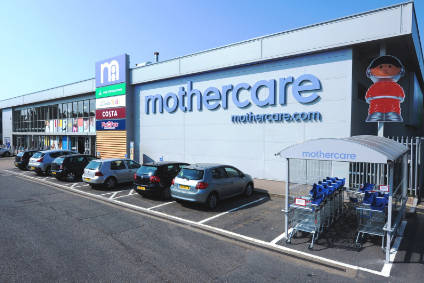 Third quarter sales have again plummeted at UK based mother-and-baby retailer Mothercare, with lower levels of discounting being blamed for the fall as well as challenging trading conditions.
For the 13 week period to 5 January, UK like-for-like sales fell 11.4%, in part reflecting tough comparisons with aggressive discounting activity undertaken last year that inflated sales in that period.
Online sales also took a hit, falling 16.3% on the back of lower footfall, lower iPad sales in store due to the store closure programme, and a smaller Toy offering with less discounting.
International sales were down 1.1% in constant currency and down 3.2% in actual currency.
Despite the negative sales, Mothercare insists it is "on track" with a strategic transformation plan to deliver at least GBP19m of annualised cost saving.
Efforts began earlier last year to put the retailer back on a "sound financial footing," including several hundred job cuts, store closures and entry into a company voluntary arrangement. Most recently it confirmed to just-style 150 jobs were at risk as part of cost-cutting measures.
In November the retailer reported wider losses of GBP6.2m from GBP2.6m a year earlier, and a sales fall which it blamed on negative press coverage and refinancing.
Today (9 January), Mothercare said it was making "good progress…with the creation of a leaner organisational structure, dividing the group into Mothercare global brand, Mothercare UK and Business Services."
Mark Newton-Jones, CEO, says: "Crucially, the group continues to be disciplined in its management of cash and is progressively reducing its net bank debt. We recently completed the sale and leaseback of our UK head office and have created a leaner organisational structure. Together with other improvements, this has allowed us to reduce the levels of debt in the business, supporting our aspiration to be bank debt free by the end of 2019.
"The UK business will now operate with the discipline of a franchise, allowing the wider group to focus on the Mothercare brand and making it stronger globally.
"Looking ahead, our international business continues to show signs of recovery, although we expect market conditions in the UK to remain challenging with further disruption until April from our store closure programme. However, given the pace of our strategic transformation plan, our full year profit guidance is unchanged."
Clive Black, analyst at Shore Capital, says once the store closure is complete, Mothercare must focus on growing sales both online and offline "for the benefits of the group's structural re-engineering to come through. In this respect, having a strong backbone represents considerable year-on-year progress but there is more to do."
An area of "particular disappointment and concern" for analysts was its domestic online performance. "Mothercare understands the importance of the online channel, its present weakness at this time and the need for improvement; appointments have been made in this respect, but we keenly await an up-tick in momentum," says Black.
Amy Higginbotham of GlobalData adds that Mothercare must ramp up its online offering in response to its smaller store portfolio, and to prevent traffic being driven to other retailers of mother and baby goods. "Mothercare must invest in its digital platform as competition from the likes of Amazon and PreciousLittleOne intensifies."