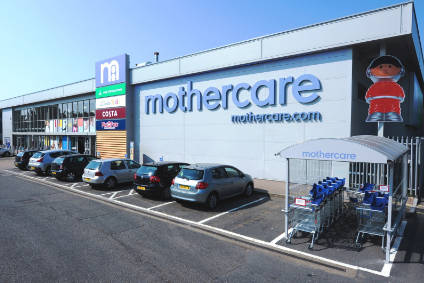 Mothercare said sales for the year were pressured by the global pandemic but it has made a "tremendous amount of progress" in its transformation.
Mothercare recorded a GBP0.2m profit compared with a GBP0.6m loss for the same period last year.
Turnover fell to GBP85.8m from GBP165m a year earlier.
In autumn 2020 Mothercare started selling through Boots as part of its franchise relationship, closing all UK standalone stores and warehouses.
It sells through 700 stores via its international franchises, across 37 countries.
The move came after Mothercare announced it was closing all of its UK stores amid widening losses in November 2019 and outlined a new business model.
Clive Whiley, chairman of Mothercare commented: "The past financial year has clearly been a challenging one, however, despite the backdrop of the pandemic, we have made a tremendous amount of progress in fundamentally transforming the group. We expect 2022 to be a year of further progress as we focus upon developing our strategy and future plans to optimise the Mothercare brand globally over the next five years. These are exciting times as, notwithstanding the continued impact of the pandemic in many of our franchise partners territories, without the distractions of the last three years we are seeking to accelerate the growth of the business and the Mothercare brand. We look to the future with great optimism having established a strong and efficient platform with multiple opportunities for growth."
Going forward Mothercare says based on reducing impacts on its franchise partners' operations as the current year progresses, the implementation of the new operating model, greatly reduced cost structures and the elimination of significant legacy issues, it expects a significant improvement in operating profits for the current year.
It has identified the following opportunities for growth:
Strong opportunities for growth in new territories – Mothercare is still not represented in 7 of the top 10 baby markets in the world.
Organic growth through new and enhanced ways of working with existing franchise partners and refocused product strategy aligned to international customer demand.
Extension of brand reach possible as we explore the opportunities available to us in wholesale, licensing and online marketplaces.
Opportunity for step-change growth through leveraging the intrinsic value of our strong core global brand recognition and extensive international footprint.
AIM listed entity with expectations of an improving trend in operating profitability and being debt-free within five years.
Commenting on the numbers, Clive Black, analyst at Shore Capital said:
"We reinitiate coverage of Mothercare (MTC) with a Buy rating and fair value of 23p.
"We argue that Mothercare is the most underappreciated opportunity within our UK retail coverage, given the incredible transformation management has undertaken while dealing with the pandemic challenges.
"Building on more than 60 years of experience, we see MTC leveraging its simplified, profitable and cash-generative franchise business model in the fragmented and underserved, but traditionally resilient, parents and young children market. Over the next year, we expect the business to return to a high single-digit EBITDA margin, with the potential to reach MTC's EBITDA target of c.GBP15m in steady-state; all this is delivered with a capex/sales ratio of only ~1% and negative working capital.
"We believe MTC's credentials position it well to be the 'partner of choice' for franchisees worldwide, especially in younger countries, where quality and an authoritative presence in the space should fuel growth in the coming years."