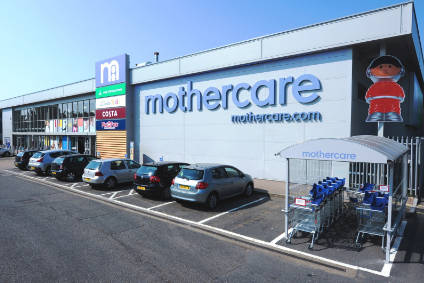 Losses have continued to mount at UK-based mother, baby and children's goods retailer Mothercare amid declining sales and costs incurred during major restructuring activity.
Turnaround efforts began earlier last year, including several hundred job cuts, store closures and entry into a company voluntary arrangement.
In its full-year earnings statement today (24 May), the retailer said most of this work is now done, including the completion of its store closure programme. Its UK estate now comprises 79 stores, down from 134 in the prior year, representing a reduction in space of 30%. The remaining locations, Mothercare said, are "well positioned" to support its UK customer base.
Other steps have included the sale of the Early Learning Centre to the Entertainer for GBP11.5m; the sale and leaseback of the Watford Head Office for GBP14.5m; and the establishment of three new internal divisions from April 2019 – Mothercare Global Brand, Mothercare UK, and Business Services – to create a leaner organisational structure.
The retailer also hailed the completion of its first season's product buy with third-party specialist sourcing agent WE Connor, following a "major overhaul" of how it sources product and the closure of all six of its overseas sourcing offices in India, Bangladesh, China and Hong Kong.
"By partnering with Connor we are now sitting alongside their other retailers' volumes and thus we anticipate benefits of scale and lower cost prices in the medium term," Mothercare said. "An added benefit of our new sourcing approach is a lowering of our cost base. As a direct result we have now closed all six of our overseas offices."
Financial highlights
Despite the changes, the retailer reported a total loss before taxation of GBP87.3m (US$110.8m) for the year to 30 March 2019, compared to GBP72.8m for the prior year. Adjusted loss before taxation was GBP18.4m, compared to GBP29m last time.
Total group revenue, on a continuing operations basis, declined 11.5% to GBP513.8m from GBP580.6m, while worldwide sales were down 7.1% to GBP948m.
Mothercare noted difficult trading conditions continued in the UK where sales were down 11.8% in the 12 months to GBP336.6m.
Domestic like-for-like sales were down 8.9%, exacerbated in the first half by reduced consumer confidence in the brand following the group's refinancing, together with wider market uncertainty. Improvements in trade were observed in the later part of the year.
Meanwhile, the group's international business showed signs of moderate recovery, despite a 4.3% in sales to GBP611.4m. Mothercare noted growth in the year in the core markets of Russia, China and Indonesia, and macroeconomic and trading challenges in the Middle East. International like-for-like sales were down 4.7%.
CEO Mark Newton-Jones said that while the restructuring activity has resulted in significant headline losses for the year, the business is now on a sounder financial footing.
"The next phase of our strategic transformation plan is to develop Mothercare as a global brand, maximising the opportunities we see across many international markets. At the same time, our primary focus in the UK will be the development of our online proposition, the introduction of enhanced credit options and more exclusivity in product, coupled with a reinforcement of our specialist and service credentials.
"In the early stages of this financial year, we are seeing some improving UK trends as we continue to rebuild to be the specialist retailer for parents and young children."
Emily Salter, retail analyst at GlobalData, notes Mothercare has emerged from the first full year of its strategic transformation plan with "little evidence of recovery."
"A vital problem faced by Mothercare is that it seems to have been unable to convert shoppers to its online platform after store closures as e-commerce sales decreased significantly," she says. "Many previous Mothercare shoppers whose closest store has closed will have turned to online behemoth Amazon instead, attracted by its wide range of brands, lower prices and convenience, as well as online baby specialist PreciousLittleOne, which offers a range of branded and own-branded products.
"John Lewis, Tesco and Asda are also gaining share in the baby market as specialists struggle, and Mothercare will find it hard to compete with these players in terms of convenience and price."
Looking ahead, Salter says Mothercare must now focus on maximising footfall and sales from its remaining store estate, perhaps hosting in-store events to emphasise its credentials as a specialist in the market and focus on what Amazon can't do.
"Its online proposition must also be improved, which the retailer states as its primary focus for the UK, so it can compete with online and multichannel players in the future."