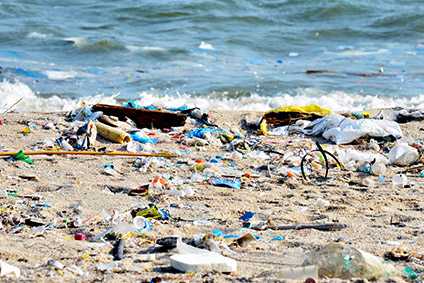 US outdoor clothing supplier Mountain Khakis is working to combat sea-pollution by using yarn and insulation in its collections that are made from crushed oyster shells and post-consumer recycled plastic bottles.
The SeaWool Yarn and SeaWool Insulation uses a proprietary heat process to combine oyster shells and recycled PET bottles and turn them into a new yarn/fabric whose structure shares 98% of wool's traits, as well as being anti-static and easy care. The firm adds the benefits include contributing to building a circular economy.
SeaWool Yarn properties are odour-blocking and quick-dry, as well as offering low thermal conductivity and "superior" warmth-to-weight ratio. SeaWool Insulation is designed so that the outer layer consists of robust hollow fibres, while the denser middle layer maximises insulation, resulting in low thermal conductivity, and increased heat storage.
"We're always looking for new, natural materials that can enhance our apparel while limiting our impact," explains Ned Hutchinson, senior product manager at Mountain Khakis. "SeaWool offers a unique opportunity to remove waste and build a superior product at the same time. The CLO value of the insulation is even higher than other branded insulations of the same weight, and the yarns offer amazing hand and drape with so many of the same properties of wool, it makes sense to have it in the name."
Mountain Khakis is using SeaWool in both yarn and insulation starting with a limited offering for autumn 2019, which includes the Pearl Street Flannel in the SeaWool Yarns range and the Triple Direct Jacket, Triple Direct Vest and the Moran Insulated Shirt Jac in the SeaWool Insulation range. The collections will expand in 2020.