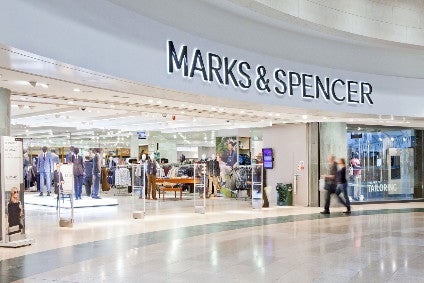 Clothing, homewares and food retailer M&S has revealed plans to shutter a further 85 full-line stores amid a 9.9% drop in full-year profit.
In the year to 30 March, profit before tax for the group, not adjusted for exceptional items, declined to GBP523.2m (US$663.1m) from GBP580.9m which the retailer attributed to sales headwinds and the cost of store closures.
UK clothing and home sales were down 3.6% over the year, impacted by store closures, with like-for-like revenue down 1.6%. Gross margin, however, was up 20bps driven by 14% lower stock into sale.
Encouraging progress in the third quarter was constrained by weak availability in the fourth quarter as the retailer reported selling out of fast selling lines and experiencing supply issues.
Group revenue in the period slipped 3% to GBP10.4bn, while international revenue decreased by 13.4% at constant currency driven by the closure of stores in loss-making exit markets, and the sale of the business in Hong Kong to a franchise partner in December 2017. Excluding Hong Kong and exit markets, revenue grew by 1.1%.
Meanwhile, M&S said it had made good progress in tackling the previous issue the sector faced: too wide ranges and misjudgment of customer shopping preferences. While it has pruned options, introduced slimmer fits and more mid-sizes, to which the customer response has been very strong, it is facing several issues including a slow supply chain, which ultimately drove sales down.
"Creating a new range architecture in a business with weak processes, a slow supply chain and where buyers are building their confidence has proven challenging, and our sales both in store and online have been frustrated by poor availability in Q4," it said. "Although we made good progress reducing overall stock levels, with stock cover down almost three weeks and stock into sale down 14% across the year, many popular lines have sold out prematurely because of the failure to increase the depth of buy and the slowness of the stock flow."
But the group said despite the "teething problems" the customer response to the initial changes was "encouraging". Its new denim launch produced an initial 20% sales uplift and sales of GBP15 women's jeggings were up 30% over the campaign period.
Online, however, where the group is looking to bolster its presence, clothing and home revenues were 9.8% higher year-on-year, improving its online clothing market share by 0.3 percentage points.
"We are deep into the first phase of our transformation programme and continue to make good progress restoring the basics and fixing many of the legacy issues we face," CEO Steve Rowe said. "As I have said, at this stage we are judging ourselves as much by the pace of change as by the trading outcomes and change will accelerate in the year ahead.
"Whilst there are green shoots, we have not been consistent in our delivery in a number of areas of the business. M&S is changing faster than at any time in my career – substantial changes across the business to our processes, ranges and operations and this has constrained this year's performance, particularly in clothing and home. However, we remain on track with our transformation and are now well on the road to making M&S special again."
Store closures
Looking ahead, the retailer said in today's statement, it currently expects to close about a further 85 full-line stores and about 25 Simply Food stores in addition to the 35 full-line stores closed at FY18/19.
Its strategy, it said, is as much about right-sizing, relocating and new openings as it is about closures.
"As such we anticipate our owned store base is likely to remain broadly level," it said.
The news follows an announcement in January that M&S plans to close another 17 stores with the loss of more than 1,000 jobs, as part of a review of its portfolio aimed at returning the group to profitability. The high street giant had already outlined plans to shutter 100 stores by 2022.
Meanwhile, M&S said it expects to deliver a more marked reduction in options and range duplication, with a substantial increase in the number of GBP1m+ lines for autumn, a significant improvement in size ratios, further focus on style and fashion and additional investment in value. This will be reinforced by the update of the sub-brand strategy, including the re-launch of the Per Una range where the initial customer reaction to early changes has been positive.
"With the new range architecture, we will aim to shift to a 'first price, right price' trading philosophy, and further reduce the percentage of clothing and home sold at discount which remains too high."
The group also said it has reduced the complexity of its logistics network and is at an early stage of modernising its supply chain network, technology and process and this remains a priority.
Outlook 2019/20
M&S said it remains in the difficult stages of its transformation programme and while it expects some improvement in trading in each of its major businesses in the year ahead, progress is likely to be second half weighted.
In clothing and home, net store closures are expected to reduce sales by c.3%, while gross margin is anticipated to be -25bps to +25bps.
Thomas Brereton, retail analyst at GlobalData, said despite the poor sales figures there are "tangible signs that M&S intends to remain a major player in both divisions in the long run."
"Clothing and home is making similarly (to food) slow steps forwards, supported by online growth of 9.8%, with C&H l-f-l sales falling only 1.6% despite the closure of 26 full-line stores over the year, with M&S concurrently narrowing ranges in order to unify the otherwise fractured and confusing buying process.
"Given M&S's eminence in UK retail, headlines will – at least for the next year – continue to focus on the rapid pace of store closures and M&S's contribution to the high street "apocalypse", with a further 85 full-line and 25 Simply Food stores expected to close over the course of the next year, with focus remaining on becoming a "digital first" retailer, with the upcoming restructuring of the Sparks loyalty scheme provided as an example. But for investors, M&S's potential slide out of the FTSE 100 provides yet another warning bell for physical retail – those who fail to adapt to consumer's ever-changing demands will not survive against the backdrop of the more agile market players."
Richard Lim, chief executive at Retail Economics conceded: "Despite concurrent waves of political and economic upheaval, this is a mere distraction from the seismic structural shifts reshaping the retail trading environment. The business continues to struggle against the rapidly changing consumer environment and the race is on to pivot the business towards a more sustainable proposition that puts digital and experiences at its heart.
"The proposition remains lost amongst an increasingly competitive and dynamic market. The transformation needs to occur at a rapid pace, involving a reduction in the number of stores, repurposing space, reducing headcount and trying to leverage partnerships effectively if it is to survive this unprecedented era of disruption."