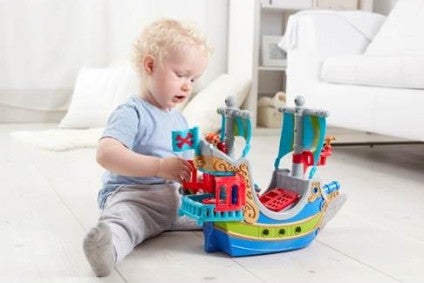 Marks & Spencer has named the Early Learning Centre as the second guest brand to be sold on its website, with management hoping the addition of some 200-plus toys to its online offering will compliment its kidswear range.
The UK fashion, food, and homewares retailer in May said it would accelerate a number of changes within the business after taking a 75% sales hit on clothing sales during the coronavirus lockdown – with plans to bring in third-party clothing brands, and introduce a faster, 'near-sourcing' supply chain.
Under its 'Never the Same Again' agenda, M&S said guest brands will be introduced online and in larger stores in a bid to broaden appeal and grow online sales.
"We've begun to test and learn opening up M&S.com to complementary brands to broaden appeal and help turbocharge online growth. With more customers shopping online this Christmas than ever before, we wanted to strengthen our offer with a selection of Early Learning Centre toys to sit alongside our popular kidswear and gifting ranges," said Stephen Langford, M&S.com director said.
Eco-conscious womenswear brand Nobody's Child became the first third-party brand to join M&S.com last month.
Shore Capital analyst Clive Black notes: "We shall watch with interest to see how this complementary portfolio of products builds, but if the first two additions are anything to go by, we do see them adding traffic and trade to M&S.com.
"We see this modest development as a further sign that M&S is now firmly in 'doing' mode albeit we concede that across the group it still has plenty to do.
"However, with Richard Price now in post as managing director of clothing and home, plus the creation of the pure-play MS2 capability within the division, alongside the clearer thinking about real estate strategy, we do now sense M&S is moving across the board into a doing mode, as opposed to analysing and planning.
"Quite what happens with the Covid vaccine remains to be seen, but rightly or wrongly there is some palpable hope now evident, which could just mean that with much under the bonnet work complete, M&S could just be in a good place to harvest any economic recovery in CY2021 and thereafter. 'Could just' though is as far as we can go at this stage."
Last week, M&S reported its first-ever loss as a publicly-listed company after coronavirus lockdowns led to a slump in clothing sales. The retailer booked a net loss of GBP71.6m (US$92.8m) in the six months ended 26 September, compared to earnings of GBP122.4m a year earlier.