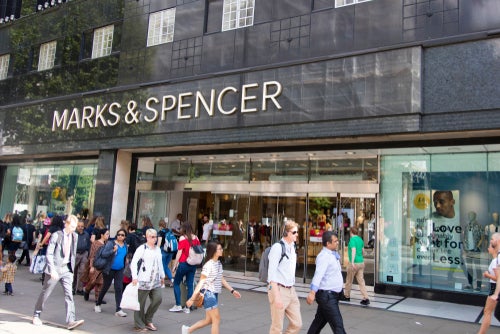 For the 26 weeks to 1 October, M&S Clothing & Home delivered strong growth with total sales up 14.0% and like for like sales up 13.7%. Full price sales participation was broadly level on last year and well above the historic average. Market share increased 50 basis points to 9.1% said M&S, citing Kantar data.
M&S said that value for money and style were the factors leading growth in its Clothing & Home division.
Store sales were up 18.8%. Growth was driven by stores in city centres and shopping centres reflecting the return to more normal trading patterns, although high streets continued to lag. Online sales increased 4.9% and were 32% of total Clothing & Home sales, with continued strong growth in traffic and increased average order values, partly offset by higher returns rates.
The retailer says it is now looking at ways of capitalising on opportunities to transform stock flow from source to shelf and rapid replenishment of returned stock.
Operating profit in Clothing & Home before adjusting items was GBP171.4m as compared to GBP128.4m in 2021/22 excluding business rates relief of GBP27.8m received in the prior period, an increase of 33%. Strong first-half net margins of 9.8% reflect the rebound in store sales, a steady full-price mix and operating leverage due to sales growth.
Group numbers
M&S booked profit after tax and adjusting items of GBP205.5m, a 23.7% drop on the same period a year earlier.
Statutory revenue increased by 8.5% to GBP5.54bn while sales rose 8.8% to GBP5.56bn.
But operating profit fell 22.7% to GBP280.7m.
Stuart Machin, chief executive said: "Trading in the first half has been robust with both businesses growing ahead of the market, reflecting the beginnings of a reshaped M&S.
"Clothing has delivered a stand-out performance from a market-leading position in value with improving style credentials. The programme to renew and rotate our store estate is driving sales and quick paybacks, while the M&S app now accounts for over a third of online Clothing & Home sales. At Ocado Retail, the customer proposition is being re-energised under new leadership. Underpinning our business is an improved balance sheet with reduced debt and a strong cash position.
"This progress means we face the current market headwinds with increased resilience and level of confidence. Looking beyond the current stormy weather, much is in our control and our mandate is clear – to step up the pace, accelerate change, drive a simpler, leaner business and invest in growth opportunities to build a reshaped M&S."
Outlook
Going forward, M&S says it is entering what is traditionally its strongest quarter and the business continues to trade well. Trading in the first four weeks of H2 is in line with forecasts, with Clothing & Home sales up 4.2%.
M&S expects to deliver an adjusted profit before tax in FY23 similar to expectations set out in its FY22 results.
But it anticipates conditions in all its markets to become more challenging in FY24.
"The far-reaching changes made over the past few years, together with a reinvigorated product offer and strong value for money credentials provide some insulation from the gathering storm. In addition, the M&S customer base has slightly advantaged demographics," M&S says.
"Under new leadership, steps are now being taken to accelerate migration into growth channels – online and high performing modern stores – whilst at the same time bringing forward plans to streamline the business and reduce costs. The combination of technology-driven efficiency gains, structural cost reduction, supply chain efficiency and simplification is targeted to deliver over around GBP150m of cost savings in 2023/24," it adds.
At the end of last month, M&S announced the launch of MIRA, its first virtual influencer leaving industry experts on the fence over whether it will drive custom among its desired younger audience base.
Analyst reaction
Joe Dawson, retail analyst at GlobalData comments: "Clothing and home sales rose 14.0%, with online up 4.9% due to an improved online shopping platform and increased brand offering. M&S' older customer base also helps to mitigate the effects of inflation, as this demographic is less likely to change their spending habits during the current crisis. Meanwhile, its capsule collection with Hirestreet, offering outfits to rent from GBP39, sees the retailer making inroads in the growing sustainable clothing market and will help to attract new shoppers to its clothing proposition. 
"This year has seen M&S streamline its retail operations, closing unprofitable stores to redirect investments into renewing more profitable ones, and opening more Simply Food outlets. At the forefront of this has been the regeneration of its Oxford Street store, which despite environmental concerns has garnered support from other leading retailers, citing sustainable improvements and creating over 2,000 new jobs. Another big change is the acquisition of its logistics provider Gist, which will give greater control over distribution and supply chain costs – a wise investment given the turbulence in the supply chain over the last three years.
"M&S faces tough Q3 comparatives, but we expect it to be one of the stronger high street retailers this Christmas, gaining share across GM and food ahead of rivals. Its strong commitment to value and quality will encourage consumers to invest, especially among gift buyers, safeguarding it from the price-led operators. The global rollout of its Sparks card, increasing the 'Remarksable' value range, and investing in multiple channels/customer touchpoints will also encourage loyalty.  Looking forward to next year, profits will again be squeezed by sustained inflation, but M&S is well placed to weather the storm with a reliable customer base and a good reputation in existing markets."