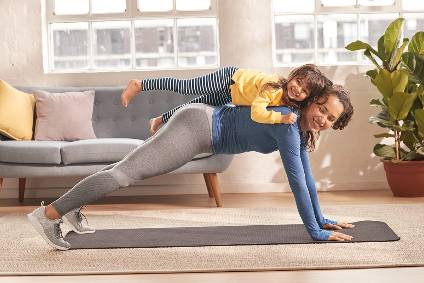 Marks & Spencer has launched Goodmove — its new dedicated activewear range — in an apparent nod to the recent growth of the athleisure market.
Goodmove is available online and in-store and features over 150 products spanning everything from performance wear for sports enthusiasts to outerwear.
The group has struggled in recent months to grow sales in its Clothing & Home business. In the first half of its current financial year, the retailer saw revenues in the division fall 7.8%, with like-for-likes down 5.5%.
CEO Steve Rowe has been vocal about M&S needing to move faster to address "long-standing issues" in its clothing supply chain around the availability and flow of product. It has been trying to reinvent itself for more than a decade, with the current five-year "restoring the basics" turnaround plan seeing more than 100 store closures by 2022, and a focus on better planning and stock visibility, removing outdated product lines, improving logistics, and upgrading its online visibility. But critics say an overload of brands means its offer is too confusing and no longer resonates with the core customer base.
Announcing the new line, M&S said its Clothing & Home division is changing to deliver more products designed to cater to today's "family-age customers", making activewear a clear area of focus.
"Over the past three years, the athleisure market has significantly outperformed the overall clothing sector and the macro drivers behind its growth show no signs of going away. Alongside British consumers increasing focus on health and wellbeing, a switch towards more casual fashion and the rise of home working have both contributed to the growth of athleisure, as consumers opt for a more flexible wardrobe to suit their different lifestyle demands," it said adding that M&S is currently the UK's second biggest activewear retailer but is the market leader in sports bras. With the launch of Goodmove, M&S intends to use its authority in sports bras, coupled with its longstanding reputation for garment innovation, to grow its position in other activewear categories.
The global athleisure market is forecast to rise by 9% in 2019 and will continue to outperform the total clothing and footwear market beyond 2023, driven by consumer desire for a multifunctional wardrobe according to data and analytics company GlobalData.
Honor Strachan, principle retail analyst at GlobalData, says: "Over the next five years, the sportswear market will be one of the leading retail sectors. Activewear brands are selling consumers a lifestyle and fashion retailers are leveraging their style credentials to produce affordable fitness ranges to sell alongside core casual and formalwear collections."
The Goodmove range is available in sizes 6 – 24, with prices starting from GBP12 for a sports bra.
Jill Stanton M&S's womenswear director says: "Activewear has become a staple in today's wardrobe – not simply because we work out more but because the nation is embracing a more causal and flexible way of dressing. As the UK's biggest clothing retailer and the market leader for sports bras, launching Goodmove is an opportunity for us to drive growth through a really relevant product offering. We've developed Goodmove to be everything we know customers want – comfortable, easy to wear, great value and exceptional quality, backed by an easy shopping experience. Activewear really plays to M&S clothing's heritage strengths for fabric and product innovation and those features are at the heart of the range – from quick dry fabrics to blackout technology on all performance leggings."
Nathan Ansell M&S's clothing marketing director adds: "Goodmove is the start of a new conversation with our customers around activewear – repositioning it as a wardrobe essential for today's busy families. As a marketing team, our starting point was for whoever you are, we want to help you get up and go and move the way you want and that's driven a campaign that feels confident, fun and inclusive. Launching as the customer mindset has shifted to the New Year, we want to help the nation get moving in 2020 – with products designed for however customers chose to move – from a walk with the kids to a high intensity class at the gym."