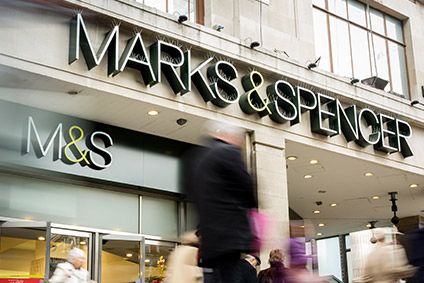 Marks & Spencer is to accelerate a number of changes within the business after taking a 75% sales hit on clothing sales during the coronavirus lockdown – with plans to bring in third-party clothing brands, and introduce a faster, 'near-sourcing' supply chain.
The UK fashion, food and homeware retailer took a GBP145.3m (US$178m) charge on what it called a "stock bulge" of unsold items as a result of store closures, it said in a trading update today (20 May). The company cancelled GBP100m of late summer stock orders and has put around GBP200m into storage for spring 2021.
While online clothing and home has traded throughout the coronavirus pandemic, demand in the initial weeks was "very low" with a gradual uplift since. In the last three weeks, online sales have been running at around 20% up year-on-year. For the six weeks to 9 May, however, the division's sales slumped 75%, while group sales were down 32.7%.
Earnings for the year ended 28 March were down nearly 40% to GBP27.4m. Group revenues dropped 1.9% to GBP10.2bn. Clothing and home revenues were down 8.3% to GBP3.21bn, while like-for-like sales were down 6.2%. Operating profit slumped 37% to GBP223.9m, impacted by availability in the first half.
Chief executive Steve Rowe said the coronavirus pandemic has resulted in aftershocks that will "endure for the coming year and beyond."
"Whilst some customer habits will return to normal others have changed forever, the trend towards digital has been accelerated, and changes to the shape of the high street brought forward. I am determined to act now to capture this and deliver a renewed, more agile business in a world that will never be the same again."
A new way of working
M&S has outlined over GBP1bn of actions, including GBP500m of cost reductions and other actions to manage cash, in addition to drawing up a 'never the same again' agenda to accelerate transformation and invest further in digital.
The retailer plans to add around 1,600 core clothing and home lines to the Ocado online platform – in which it bought a 50% stake last year for GBP750m – with an autumn range expected in September of around 850 lines. In addition, guest brands will be introduced online and in larger stores in a bid to broaden appeal and grow online sales.
Changes will also be made in the supply chain as M&S accelerates its move to 'trusted value' in clothing and home, and option count reduction and supplier concentration.
A reduction in range and a shift towards fast-moving product at "great value" necessitated by the crisis will result in a permanent reduction of 20% in autumn/winter store option count, while the role of the sourcing offices will be increased so that sampling, ordering and quality issues are dealt with offshore.
A faster, 'near-sourcing' supply chain will also be developed, to enable the test and re-order of seasonal fashion lines particularly for the online business. And already underway is the replacement of ageing stores.
And as part of a "renewed management team", M&S has appointed the commercial vice-president of Asda's George brand, Stephen Langford, as its head of clothing and home online. He joins Paul Babbs who was appointed head of supply chain for the unit, both of who started this month. Also joining in July is Richard Price as managing director.
"Too little too late"
Sofie Willmott, lead retail analyst at GlobalData, believes that while the retailer is grasping the opportunity presented by the pandemic and learning lessons about how quickly it needs to react, it is "too little too late."
"It should have adjusted years ago like many of its competitors did. If its online channel had been prioritised when digital sales were booming, it would have already shifted shoppers online and been able to reap the benefits now. Consequently, despite clothing and home online sales increasing by 6.4% in the past six weeks this has had very little impact on a business that is so reliant on stores.
"Non-essential sectors have been deprioritised by many consumers concerned about spending in recent months, but M&S's clothing and home sales show that its customers have not been willing to shift from spending in stores to online.
"M&S has lots of new faces joining its leadership team over the next few months and their biggest priority must be online. In all retail sectors, online will continue to outperform with channel shift accelerating this year as a result of Covid-19."
Shore Capital analysts, meanwhile, believe that despite considerable progress, particularly in FY2020, there remains much still to be done before M&S's clothing and home business is right-sized and in the shape to grow again.
"Hopefully, the early release of Richard Price from Tesco, the new managing director who arrives in July, will drive matters forward.
"We are very encouraged by the agility M&S has displayed in recent times, the work on liquidity, which gives the group breathing space to take the business forward and, most of all, the additional focus and pace to deliver transformation. What sort of UK high street emerges from the coronavirus crisis remains to be seen but, like Next and Primark, we see M&S as a survivor and one that can be demonstrably leaner, fitter, quicker and so better."
Will Broome, founder of retail shopping app Ubamarket, says the most successful stores will be those willing to overhaul their outdated models and operations, focusing on consumer experience and convenience.
"I believe that M&S has hit the nail on the head with today's statement, as the coronavirus pandemic has completely changed the retail landscape as we knew it. Consumers will never shop in the same way again, and Britain's retailers are set to return to a market that is very different to the one they left some two months ago.
"The key now for retailers is to maximise the efficiency, safety, and convenience of the shopping experience for their customers. In an environment where hygiene and speed are of the utmost concern, the biggest difficulty that retailers across the country will have to negotiate is the challenge of getting customers in and out of their stores safely and quickly, while offering solutions to old problems that have been highlighted by coronavirus."