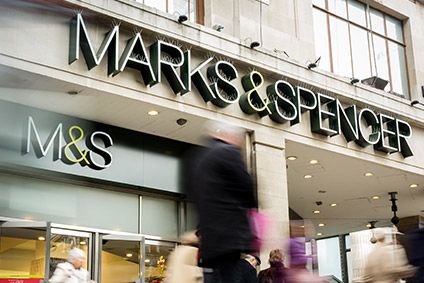 Clothing sales have once again dived at UK High Street chain Marks & Spencer as the retailer reported its third-quarter trading results to 28 December.
Clothing and home sales fell 3.7% to GBP1.06bn and 1.7% on a like-for-like basis.
Group revenues, which include the results of its international arm and its food division, fell 0.7% year on year to GBP3.02bn.
The group said trading reflected the ongoing progress of its transformation strategy.
It added in clothing and home, trading had an improved run rate from the first half, reflecting strong initial customer reception of autumn ranges with signs of continuing recovery in core womenswear, offset by underperformance in menswear and gifting.
Clothing and home UK online revenue edged up 1.5% which the group said was "lower than expected" and adversely impacted by competitor discounting in December and lower furniture dispatches at the start of the quarter.
M&S has struggled in recent months to grow sales in its clothing and home business and CEO Steve Rowe has been vocal about needing to move faster to address "long-standing issues" in its clothing supply chain around the availability and flow of product.
It has been trying to reinvent itself for more than a decade, with the current five-year "restoring the basics" turnaround plan seeing more than 100 store closures by 2022, and a focus on better planning and stock visibility, removing outdated product lines, improving logistics, and upgrading its online visibility. But critics say an overload of brands means its offer is too confusing and no longer resonates with the core customer base.
Commenting on the numbers, Rowe today (9 January) said: "Clothing and home had a strong start to the quarter, albeit this was followed by a challenging trading environment in the lead up to Christmas. As we drive a faster pace of change, disappointing one-off issues – notably waste and supply chain in the Food business, the shape of buy in Menswear and performance in our Gifting categories – held us back from delivering a stronger result. However, the changes we made earlier in the year in Clothing have arrested the worst of the issues of the first six months and we are progressively building a much stronger team for the future."
Earlier this week, M&S launched Goodmove — its new dedicated activewear range — in an apparent nod to the recent growth of the athleisure market and targetting the more "family-age" customer.
Analysts call for focus on online proposition
Kate Ormrod, lead retail analyst at GlobalData, comments: "Having previously offered hope by reporting improved clothing and home performance in October, with full-price and planned promotional sales rising 2.7%, the division has failed to maintain momentum throughout the rest of Q3. While there were undoubtedly distractions hindering non-essential retail spending late last year, not least the general election, it is clear that M&S remains unable to excite shoppers enough to buy. The retailer maintains that there are signs of recovery in womenswear, but now interestingly points to menswear weakness as the problem, while gifting also underperformed.
The standout figure for Q3 is the terrible online performance for clothing and home with growth of just 1.5%. Like Next, M&S needs the online channel to make up for its lacklustre stores, but unlike its closest rival, its digital proposition has not been suitably honed to do so….While its store closure programme inevitably puts a dampener on its performance, 2020 is the year that M&S must start delivering on the promise of its transformation plan in C&H, or risk confirming that it was indeed too little too late."
Clive Black, analyst at Shore Capital adds: "M&S remains in a period of change that is consistent with the extended timeframe with which we have outlined for some time now that the transformation plan will need to yield both operational and financial benefit."
But he notes positive performance in several clothing categories: "It should be said with a sense of pleasure, that M&S has probably delivered a positive LFL performance in womenswear, kidswear and lingerie. In UK clothing and footwear, we would contend that M&S is close to performing inline with the industry, after a period of market share loss, which would, if sustained, underscore its improved level of competitiveness."
Meanwhile, Richard Lim, CEO of Retail Economics, adds: "While clothing and home lagged overall growth, it still improved on previous performances. The major disappointment came in the online business that barely showed any meaningful signs of growth. Integrating a seamless digital proposition remains the key challenge for the retailer."