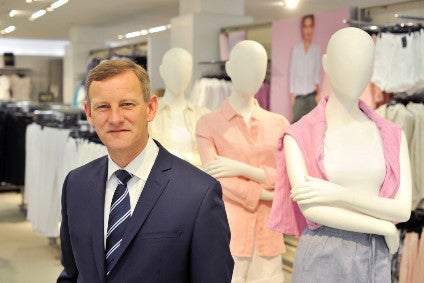 The CEO of UK retailer Marks & Spencer has said every aspect of the company including its supply chain is set to undergo "scrutiny and change" as it sets a timeframe of three to five years to return the business to profitable growth.
Profit before tax and adjusting items at the clothing, homewares and food retailer was up 2% to GBP223.5m (US$293.4m) for the 26 weeks ending 29 September, as a result of cost savings, the group said today (7 November). Group sales for the period, however, dipped 3.1% to GBP4.97bn.
In its Clothing and Home arm, revenues fell 2.7% on the back of store and outlet closures, with like-for-like sales down 1.1 %. The online Clothing and Home division reported revenue growth of 9.1% for the period.
In May this year, the group announced a "transformation agenda" – an attempt to return the business to profitable growth following a full year profit slip of 74.8% to GBP29.1m on the back of falling sales.
Coined "restoring the basics", the plan's objective is to create fewer, better clothing and home stores, which will be larger, digitally enabled, better located and more inspirational for customers to shop.
A significant part of the group's focus will lie in reshaping its "weak" supply chain, particularly in its Clothing and Home arm.
The supply chain infrastructure is "well short of state of the art, management has been fragmented and consequentially stock levels, availability, markdown and waste all remain at uncompetitive levels," admits CEO Steve Rowe.
In an update on its 'Fuse' supply chain initiative, the retailer says stock levels in clothing remain at around 20 weeks and availability is unsatisfactory. In addition, supply chain and store operating costs are impacted by the complexity of stock handling and the volume of slow-moving lines.
"The initial assessment of Clothing & Home 'Fuse' is promising, with significant reduction in stock and cost to operate. In physical distribution we are on track to open a further national distribution centre at Welham Green next spring and this will allow us to increase our single tier network coverage to around 85%."
Outside of the supply chain, plans are in full-flow to shake up its clothing collections. With an "ageing customer base, a very wide range, a weak supply chain and an ageing store portfolio," the group is looking at "reshaping its buy", reducing the number of lines and increasing its offer of "stylish and contemporary product," as it looks to target "family aged customers seeking style, quality and value."
The first half has seen it cut the number of lines and focus on growing "key categories" such as dresses where sales have grown 3% with strong growth online. It has also reduced prices in "hundreds of everyday lines" – a move that generated sales growth of 8% during the period.
It is now eying range improvement in areas such as tops and kids daywear which currently demonstrate "weakness."
Too little, too late?
Thomas Brereton, analyst at GlobalData, wonders if the step toward "profound structural change" is too little, too late. "Its speed of transformation continues to lag behind the speed of change in consumer behaviour," he asserts. "M&S is no longer able to prop up its wilting Clothing and Home division with good performances in its Food business."
He does, however, applaud the retailer acknowledging change is necessary for it to return to growth.
"The money spent on transformations shows that the retailer intends for the next three to five years to be a period of rapid change. Changes over the last few years are beginning to bear fruit, with M&S embracing the online channel quicker than many of its competitors. But while Rowe's plan of leaving "no stone unturned" in the pursuit of revamping all M&S divisions is the right one, it remains to be seen if investors – and shoppers – will afford him the time required to make the much-needed changes."
Clive Black, analyst at Shore Capital, adds far more work remains. "The fire is extensive and this is reflected in the multitude of workstreams that are re-positioning the business across the board from its stores to its supply chain and everything in-between.
"Such workstreams fit into senior management's narrative of the considerable time that it will take to demonstrate stability, and then progressive improvement. In this respect, we feel reasonably confident that M&S can become a structurally lower cost operator. However, we cannot yet be so confident that the group yet knows what it should sell, at which price and through what channel and so how much of the cost reduction hits the earnings line.
"The transformation programme is time-consuming and so, in the absence of unforeseen tailwinds, shareholders need to be patient for operating profits to sustainably build. The group's income (dividend) stream remains intact in our view, but ultimately its trajectory and sustainability will be an output of the transformation programme."
Click on the following link to see what the analysts have to say about M&S's latest results and transformation progress so far: Can "restoring the basics" put M&S back on track?