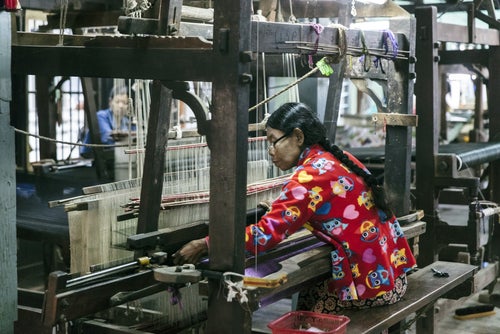 The European Commission says withdrawing trade preference for Myanmar under the EBA arrangement would impact "hundreds of thousands" of garment workers.
In response to a call this week from IndustriAll Global Union for the European Union (EU) to suspend the Everything But Arms (EBA) agreement with Myanmar, EU spokesperson Peter Stano says: "In the current circumstances, withdrawing trade preferences under the Everything But Arms arrangement would harm the wrong people and hardly affect military interests."
Unions have said the garment industry remains "a vital source of foreign exchange" for the regime. Suspension of the agreement, they said this week, would "cut off vital funds to the terrible military junta. We expect the EU to act responsibly and to act now.''
In the last few months, unions have reported that the environment in Myanmar has become increasingly dangerous for them to operate in, have safe communications with their members and negotiate with employers and brand companies to settle workplace labour disputes. As of the end of May, 54 trade unionists and worker activists have been killed by the military and at least 279 trade union leaders and worker activists have been arrested, according to the International Labour Organization (ILO).
Yet while there are calls for the Commission to remove or suspend the EBA arrangement with Myanmar, Stano says the European garment industry supports hundreds of thousands of jobs, most of them for young women who would lose their livelihoods if the EU lifted the preferential trade agreement.
"This is precisely the case of the garment industry. The military coup and the pandemic have led 220,000 garment workers to lose their job. 95% of the workforce are women and are often the only source of revenues for their families. Responsible businesses have a significant impact to avoid extreme poverty and provide better living wages, labour rights, and working conditions, as compared to other buyers who rather focus on price. This is why we think it is crucial that EU business continue to operate in Myanmar."
Stano says withdrawal of EBA preferences would only deteriorate the significant economic situation of the people of Myanmar caused by the coup, notably women workers, but not so much for the military who are responsible for violations of human rights.
The Commission estimates that around 450-500,000 people are directly employed in companies benefiting from EBA preferences in Myanmar.
"As a result of the coup, workers' rights have been increasingly affected and the space for trade unions to operate has reduced. The EU is currently working on a programme that will enable trade unionists to interact effectively with European brands to address labour disputes and compliance issues. This programme will complement other EU ongoing efforts in the garment sector such as the provision of direct cash transfers to workers who lost their job as a result of the closure of factories following the Covid pandemic and the military coup."