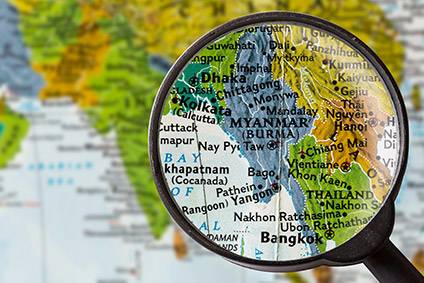 A garment factory in the Ayeyarwady region of Myanmar has closed due to a shortfall of raw materials from China, leaving over 1,000 employees out of work.
The Hua Meng factory, in Kangyidaunt Township, is understood to have closed on 28 February, according to Eleven Myanmar.
The Chinese-owned facility started operations in the region in 2018.
According to a source, the investors are hoping the closure is temporary, but there is a risk it could become permanent.
Workers have reportedly been offered either the legally obligated severance pay and termination status, or non-severance pay with the option to resume work immediately if production restarts.
The coronavirus (Covid-19) outbreak is presenting a challenge for Myanmar's garment sector as its garment factories tackle supply issues, logistical challenges, and factory closures.
SMART Myanmar – a European Union-funded initiative aimed at promoting 'Made in Myanmar' garments and sustainable practices – last month said it was calling on international buyers to be "adaptable, flexible and innovative" during what it says is a "difficult period" for the sector.
The coronavirus epidemic has presented challenges for many countries dependent on fabrics and accessories from China, particularly Cambodia, Vietnam, Ethiopia and Myanmar.
Hua Meng did not return a request for comment.
Click here for additional insight on the coronavirus outbreak: Is coronavirus a threat to the clothing industry?